Five Myths About Europe's Youth Unemployment Crisis
By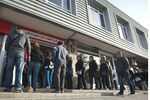 Germany and France have announced a sweeping plan to create jobs for young people in the European Union, where 23.2 percent of those aged 15 to 24 in the labor force are now listed as unemployed. "These young people need an answer now," German Labor Minister Ursula von der Leyen said in a television interview before the effort was unveiled at a May 28 meeting in Paris.
The numbers do look awful. In Greece, youth unemployment has risen to 57.9 percent—and in Spain, to 55.2 percent. EU-wide, it's up from an already worrisome 21.1 percent in 2010.
The Franco-German plan is expected to provide European Investment Bank backing for loans totaling as much as €60 billion ($78 billion) to small and mid-sized companies that agree to hire and train young people.
Is the situation as bad as it looks? And are European leaders proposing the right solutions? Let's sweep away a few myths:
MYTH 1: Nearly one in four young people in the EU is looking for work and can't find it.
REALITY: As in the U.S., the unemployment rate counts the unemployed as a share of only those who are in the labor force. It thereby excludes 15- to 24-year-olds who are enrolled in school or in training programs and therefore not looking for work. According to the Organization for Economic Cooperation and Development, only 12.6 percent of EU residents aged 15-24 are neither working nor studying, and not all of those are looking for jobs.
A more realistic measure may be the "youth unemployment ratio" developed by EU statistics agency Eurostat. It looks at the entire population of 15- to 24-year-olds, and determines how many of them are looking for work but can't find it. EU-wide, that figure last year was 9.7 percent, which is a problem but still far below the widely reported 23.2 percent youth unemployment rate.
MYTH 2: Youth unemployment has risen everywhere in Europe during the economic crisis.
REALITY: While the overall rate has risen, it has declined over the past three years in a number of countries, including Germany, Austria, Finland, and the Baltic states of Estonia, Latvia, and Lithuania.
Indeed, Germany has effectively achieved full employment for young people, with a youth unemployment ratio (taking into account the entire population of 15-to-24-year-olds) of only 4.1 percent. Indeed, Germany says it has 30,000 unfilled vacancies in training programs for young workers.
MYTH 3: The key hurdle is getting young people into their first jobs.
REALITY: The jobs most readily available to young people are temporary and/or part-time, and because young workers have less seniority they're more likely to be laid off. "Young workers have a significant problem of under-employment," says David N.F. Bell, an economist at the University of Stirling in Scotland who has studied youth unemployment. "Wages have not been rising, but prices have. People want to work longer hours, but their employer isn't offering that."
Even if they find jobs, young workers tend to get stuck in the lower rungs of the employment ladder, Bell says, and research suggests that the longer they remain there, the greater the damage to their future earning prospects.
MYTH 4: Youth unemployment is lower in countries with highly educated work forces.
REALITY: In some instances the reverse is true. In Spain, for example, 39.1 percent of people aged 25-34 are university-educated—one of the highest rates in Europe. In Greece the figure is 30.9 percent. Contrast that with Germany, where only 25.3 percent of people aged 25-34 have university degrees.
Instead of pushing high school students toward higher education, Germany steers many into apprenticeships that lead to stable full-time jobs. Some spaces in these programs go begging, yet they're spurned by young people from neighboring France., which has relatively high youth unemployment—but which also has Europe's highest rate of university education, 42.8 percent.
"It's partly due to language," Annegret Kramp-Karrenbauer, premier of the German state of Saarland that borders France, told Bloomberg News in a recent interview. But, she adds, Germany's apprenticeship system "doesn't have much prestige in countries like France and Spain and others."
MYTH 5: Targeted programs are the best way to attack youth unemployment.
REALITY: The track record of targeted programs is generally dismal. In France, every government since the mid-1990s has announced an ambitious plan to create jobs for young people. In 2009, for example, then-President Nicolas Sarkozy said the government would provide €1.3 billion ($1.7 billion) in tax breaks and cash incentives for employers who hired young people. President François Hollande, who is backing the new EU youth employment initiative, has previously announced his own program to create 150,000 jobs for disadvantaged youth. None of these programs has made a dent, and youth unemployment has continued to rise.
Broader initiatives to spur growth make far more sense. Even with tax breaks and loan guarantees, companies won't hire if their order books aren't growing, which is the case across most of the Continent right now, with the region mired in recession. Nor will targeted incentives offset the serious competitiveness problem faced by businesses in such countries as France, where government-mandated social charges and rigid work rules keep labor costs 20 percent higher than those in Germany.
Make no mistake: Youth unemployment is a serious issue in the EU. As you read this, nearly 6 million young Europeans are out of work and trying to find jobs. Believing in myths, though, only makes things worse.
Before it's here, it's on the Bloomberg Terminal.
LEARN MORE