Even Finns Don't Want Nokia Phones Anymore
by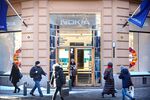 You're supposed to win the home games.
Nokia, which once sat atop the pile in the mobile-phone world, lost its distinction as Finland's leading seller of mobile phones in the first quarter, according to numbers from the research firm IDC, which were first reported by Digitoday.fi, a Finnish news site. The firm later shared the same stats with the Wall Street Journal.
Samsung Electronics is now the leading mobile-phone seller in Finland, moving 210,000 phones from January to March. Nokia sold 196,000 over the same period.
While the news is a blow to Nokia's pride, a recent report from Gartner is a better indication of the company's real problems. Nokia's global market share fell to 14.8 percent in the first quarter of this year, down from 19.7 percent during the same period last year. This was largely due to people are moving away from feature phones, those not-quite-smartphones that have sold well in poorer parts of the globe. Nokia remains the second-largest phone seller worldwide, according to the report, but is losing market share to Samsung and Apple. Nokia's own smartphones are capturing a smaller slice of the pie.
The research firm Indigo Equity Research sketched a dim outlook for Nokia in a report issued late last month entitled "Company Profile—Decline to Irrelevance." It argued that the company's problems are likely to continue building on themselves.
"Few handset sales means few new apps, which means few handset sales," the company wrote in a report. "As sales and market share decline, economies of scale are lost and margins fall; making it harder to compete. Thus it is increasingly difficult to regain lost ground."
In other words: fail long enough, and eventually, even the home crowd jeers.
Before it's here, it's on the Bloomberg Terminal.
LEARN MORE