At World Series of Poker, Ladies' Event Struggles to Keep Out Men
By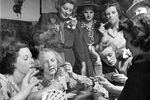 A few gentlemen cardsharps among the hundreds of thousands who turn out for the annual World Series of Poker in Las Vegas have crashed the ladies-only event over the years, usually citing anti-discrimination laws. Some did so mistakenly thinking it wouldn't be a big deal, only to be met with loud heckling and jeers. Others aimed to grab attention. At least one man stirred up controversy and ire by showing up to play in drag.
"Usually they are obnoxious and disrespectful," says Seth Palansky, a spokesman for the World Series of Poker. "It's usually a man who probably doesn't have a mother. … Some men are disgusting, unfortunately."
Caesars Entertainment, which oversees the World Series, can't legally prevent men from paying the buy-in fee and signing up for the Ladies No Limit Hold 'Em Championship, the lone event at the 48-day gathering specifically geared toward women. When this year's poker showdown starts Wednesday, however, officials plan to implement a new strategy of deterrence. The buy-in fee for the women's tournament will increase from $1,000 to $10,000—but not for everyone. Men entering the ladies' tournament on June 28 will have to shell out the full $10,000, while women will enjoy a 90 percent discount and pay the old $1,000 price.
The strategy is based on a law enacted by the Nevada Legislature in 2011 that governs gender-based marketing and promotional efforts. "It's the law that allows women to enjoy reduced prices on drinks, food and entertainment at restaurants, nightclubs and casinos," explained the Las Vegas Review-Journal. Caesars lawyers took their time in researching the law and made sure it was on the books before going ahead with the new strategy, says Palansky.
More than 230,000 people are expected to participate in this year's World Series, and about 95 percent will be men. Roughly 1,000 women are set to compete in the Ladies No Limit Hold 'Em Championship for a prize of about $200,000, and several will play in other events as well. The World Series first started hosting a ladies' event in 1977 to give wives and girlfriends of poker players something to do, Palansky says of tournament lore. The gender-restricted event also helped attract more players, and these days it is seen as an opportunity for women to compete for the coveted bracelets awarded to World Series winners while avoiding the macho world of male card players. "They don't need the World Series of Poker Ladies Event because the ladies can't compete. They need it because of the atmosphere," poker star Linda Johnson told PocketFives in a 2012 interview. She credits the ladies' event with helping launch her career. "In open events, I'm not interested in hearing about sports, what happened at Sapphire the night before, or the cocktail waitresses, which are often topics that come up."
Other female stars say the ladies' event is a cop-out. "Poker is not like tennis," said Annie Duke, winner of a World Series bracelet from an all-inclusive event. "Men are not mentally stronger than we are, so it makes no sense to separate it out. If there were a men's-only event, people would be encouraging women to play."
In any case, participation in the ladies' championship is on the decline: 936 people signed up last year, down from nearly 1,300 in 2007. "The ladies are on a downtick, likely a result of the negativity of the men showing up," says Palansky. If that's the case, maybe numbers will go up again this year.
Before it's here, it's on the Bloomberg Terminal.
LEARN MORE