As Big U.S. Banks Hire, Ranks of British Bankers Dwindle
by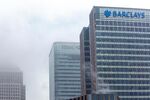 Britain's four biggest banks offer many things, but job security isn't one of them.
A new analysis of Bloomberg data shows worldwide head count at Royal Bank of Scotland, HSBC Holdings, Lloyds Banking Group, and Barclays is nearing its lowest level in almost a decade. Collectively, those companies are expected to shed an additional 189,000 positions in 2013, as the faltering European economy puts a damper on investment banking and lending. That will leave the top four British banks with about 606,000 employees.
"The big bulky mass layoffs, such as they were, are probably gone, but that's not to say staff numbers won't drift lower because it's a struggle to grow the top line," Simon Maughan, an analyst at Olivetree Securities in London, told Bloomberg News.
The staffing story is quite different across the Atlantic, where policymakers have been more aggressive in bailing out banks and priming the money-supply pump. The four biggest U.S.-based banks—JPMorgan, Bank of America, Citigroup, andWells Fargo—now employ 1.06 million, 11 percent more than they did at the end of 2008, according to a review of SEC filings.
Citi is the only one in the four to have shrunk, with almost 60,000 fewer workers today than it had when the financial world was falling apart in 2008. Meanwhile, Wells Fargo has swelled greatly—by 115,400—primarily via its acquisition of Wachovia, a massive institution in its own right.
Before it's here, it's on the Bloomberg Terminal.
LEARN MORE