2013's Hottest ETFs Let You Have Your Cake and Eat It Too
by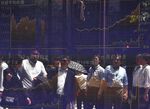 Three of the exchange-traded funds attracting the most money this year focus on wildly different areas but have one fundamental similarity: While providing an easy way to get in on a "hot" area, such as (until lately) Japanese stocks, they protect against a risk that investors may not want, such as exposure to the yen.
To wit: The ETF that has attracted the biggest chunk of investor change so far -- $7.5 billion -- is the WisdomTree Japan Hedged Equity ETF (DXJ ). If offers exposure to Japanese stocks while protecting against exposure to the yen. Investors are using it to exploit "Abenomics," the policy of Japan's Prime Minister Shinzo Abe to weaken the yen, which boosts Japanese exports. Since Abe came into office in November, DXJ has returned 56.9 percent. The iShares MSCI Japan Index Fund (EWJ ), which has yen exposure, has returned 29.6 percent.

DXJ is effectively packaging an institutional-level trade -- going long Japan and shorting the yen -- and selling it in one ETF that any retail investor can buy with an online brokerage account and a few bucks.
The fund recently crossed $10 billion in assets and is now one of the 40 largest ETFs in the world. This time last year it had $500 million in assets. The big question: When might the "Abe trade" stop working? If the yen starts rising and Japan's stock market starts falling, as it did last week, this ETF will be on the wrong end of that bet.
Removing Rate Risk
The PowerShares Senior Loan Portfolio (BKLN ) is also attracting lots of money -- $2.8 billion so far this year, which places it at No. 4 among ETFs seeing the biggest inflows. It's now a $4.3 billion ETF, up from $572 million last May. This is the first ETF to offer investors exposure to senior loans, which are high-yield bonds that have floating rates. So it offers something desirable (the high yield) while removing something unwanted (the interest rate risk). BKLN yields 4.6 percent and has returned 9.2 percent in the past 12 months.
Slightly more money has flowed into BKLN than has flowed out of mega-junk bond ETFs such as SPDR Barclays High Yield Bond ETF (JNK ) and iShares iBoxx $ High Yield Corporate Bond Fund (HYG). As the economy improves, high-yield investors worry that if interest rates rise the prices on their fixed-rate bonds will fall and they will lose money. The risk with senior loans is defaults. While the ETF neutralizes interest rate risk, credit risk remains.
Limiting Volatility
The third newly flush ETF is the iShares MSCI USA Minimum Volatility Index Fund (HYG ). It's No. 7 on the inflows list with $2.7 billion in new money. Total assets are $3.7 billion, up from $69.7 million this time last year. The desirable element that USMV offers is U.S. large cap exposure. The unwanted risk it neutralizes: volatility. USMV's 90-day volatility is significantly lower than that of the MSCI USA Index. Meanwhile, USMV has returned 16.7 percent year-to-date while the MSCI USA Index is up 16.5 percent.
USMV isn't the first company to offer a low-volatility ETF. PowerShares rolled out the S&P 500 Low Volatility Portfolio (USMV ) product a few years back. The reason USMV is attracting more money than SPLV this year could be that it limits sector exposure -- no sector has more than an 18 percent weight in the fund. SPLV, which tracks the 100 least volatile stocks in S&P 500, has half of its portfolio in utilities and consumer staples stocks. USMV is also the cheapest low-volatility ETF, with a .15 percent expense ratio. For a $10,000 investment, that's $15 a year in fees.
Eric Balchunas is an exchange-traded fund analyst at Bloomberg. More ETF data is SPLV .
Before it's here, it's on the Bloomberg Terminal.
LEARN MORE