With BuzzFeed Video Deal, CNN Goes Native
by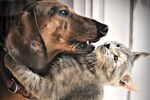 BuzzFeed and CNN have formed a partnership to produce video journalism for the Internet—and, at the same time, a new example of BuzzFeed's particular brand of digital advertising.
In the deal, which was announced on Tuesday, BuzzFeed is set to double down on video by building a "social video studio" staffed with 30 new hires who will be tasked in coming months with creating news and entertainment content exclusively for YouTube, some of which will make use of CNN's vast video archive. While known primarily for its supply of clips featuring angry babies or proving the superiority of cats, BuzzFeed's video efforts have also generated interest by employing the so called native advertising used across its website. The new video channel will likewise ditch traditional ads in favor of sponsored content.
Under this model, advertisements are designed to be encountered and consumed in the same way as BuzzFeed's editorial content. On Tuesday, for instance, readers of the website could find posts such as "15 Animals Who Are Absolutely Terrified Right Now" (sponsored by The Purge, a new horror movie) and "10 Unusual Summer Sports You Should Try Once In Your Life" (sponsored by Bud Light's Lime Straw-Ber-Rita) scattered among similar fare produced without sponsorship. This isn't necessarily a new model—the old trope about fashion magazines is that the ads are as important as the content—but experiments in sponsored content by publishers like BuzzFeed and the Atlantic have raised hackles in journalistic circles.
For CNN, working with BuzzFeed might be one way to address something the cable network shares with most legacy news companies: a young-person problem. Only 15 percent of CNN's viewership is under the age of 24, according to estimates by Quantcast. CNN has been working to change that by partnering with companies that understand young people, including a deal several years ago with Vice's video unit that put edgy documentary content on CNN.com. Now, BuzzFeed is going to take CNN's own content and turn it into video news listicles more likely to appeal to BuzzFeed's users.
To be fair, both companies describe the venture as a new form of journalism. But take a look at BuzzFeed's first video, a compilation of "Amazing Rescue Moments on CNN."
In the video, an earnest narrator pays tribute to CNN's coverage of rescues while trying to deconstruct the appeal of this kind of coverage. In a debate over whether this counts as news analysis or an advertisement for CNN, there would be arguments on both sides. But in any case, CNN's interest is to get its name on the lips of people who wouldn't normally go directly to its products on their own. Maybe the uncertainty over whether this counts as news or advertising is a testament to its effectiveness as sponsored content.
Before it's here, it's on the Bloomberg Terminal.
LEARN MORE