Wal-Mart Workers Plan a Fresh Protest, This Time in Bentonville
by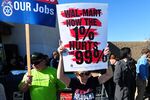 The last time most people heard about OUR Walmart, it was the busiest shopping day of the year and some Wal-Mart employees had walked off the job. They were members of the union-backed group and they had defied the biggest private employer in America by holding protests at stores around the country on the Friday after Thanksgiving. The group's full name is Organization United for Respect at Walmart, and its members were asking for a greater number of full-time jobs, with predictable schedules and wages that could provide their families a decent life. (I wrote about the movement in December.)
Now OUR Walmart members are planning another protest on another important day: the company's annual shareholder meeting. It takes place at Walmart's headquarters in Bentonville, Ark., on June 7. OUR Walmart says about 100 members from the Bay Area, Los Angeles, Denver, Chicago, Washington, Miami, and a dozen other cities will head to Bentonville this week in a bus caravan they're calling the "Ride for Respect." They expect to arrive by Sunday, June 2.
"This is the first time in my life I'm standing up for something I know is right," says Barbara Getz, who is 45 years old and makes $10 an hour as an overnight stocker in Store No. 5334 in Aurora, Colo. "Walmart is the biggest retailer in the world, and we want them to set a high standard." Among the group's requests: full-time work for those who want it, with a minimum yearly salary of $25,000. Dominic Ware will be on a bus, too. He's a 26-year-old part-time employee at Store No. 5434 in San Leandro, Calif. He makes $8.65 an hour. "My plan is to make a lot of noise and be direct and be respectful," he says.
Walmart has been opposed to unions since Sam Walton opened his first store in Rogers, Ark., in 1962. And, though OUR Walmart says it isn't seeking legal recognition, executives have criticized its efforts. "Our annual shareholders' meeting is a celebration of our 2.2 million associates who work hard every day so people around the world can live better," says Walmart spokeswoman Brooke Buchanan in an e-mail. "The Union and its subsidiary, 'Our Walmart,' is comprised of a few number of people, most of whom aren't even Walmart associates and don't represent the views of our associates. This latest publicity stunt by the unions to generate attention for their fleeting cause won't impact the festivities."
In February, Walmart created a program that, if it works, could start to address one of the worker's concerns. The idea is to make the scheduling of shifts more transparent. According to the company, the program would let employees know what shifts are available throughout the store and allow them to request to work any of them. This will give employees "the ability to choose more hours for themselves and expand their career path," Buchanan said in a statement on the company's website. The program began in Denver, Colo. and Fort Smith, Ark. and will be in place across the country by the end of October. That, of course, is just weeks before Black Friday 2013. In the meantime, Walmart instituted a new policy on Memorial Day: now part-time workers get first dibs on full-time positions that open up in any store.
Before it's here, it's on the Bloomberg Terminal.
LEARN MORE