Tiffany, Brooks Brothers, and the Mad 'Gatsby' Marketing Blitz
by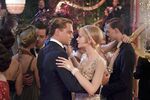 The latest screen adaptation of The Great Gatsby failed to impress critics. It found a more appreciative audience with jewelry shoppers: Tiffany & Co., which accessorized the movie's stars, cited its Gatsby tie-in as one of the factors driving a better-than-expected recent quarter.
It takes a lot of $200,000 diamond headbands to affect the bottom line, and there were plenty of additional factors behind Tiffany's rich results. In particular, the bottom had yet to drop out from under the Japanese yen, which helped the retailer post a 15 percent increase in its Asia revenue. But the Gatsby shout-out was notable because retailers have gone to great lengths of late to marry their offerings with entertainment brands. (See: Banana Republic's ongoing partnership with AMC's Mad Men.) The idea is that the brand becomes associated with the show itself in a more lasting and meaningful way than could a 30-second ad jammed into the middle of it.
So the Gatsby film presented a rare opportunity for luxury brands—the chance for a germane link to a potential summer blockbuster, a marketing forum typically cornered by fast-food franchises and toymakers. For a classy company such as Tiffany—and five additional high-end brands—Gatsby came as sort of a summer Super Bowl.
Brooks Brothers produced all of the men's costumes in the film—about 500 natty suits, tuxedos, and bowler hats—according to the official Gatsby website. Contemporary "nobodies from nowhere" and "Oxford men" can now shop the retailer's "Gatsby collection" for circus-striped sports coats and cream-colored pants. The ladies of Gatsby were wearing M.A.C. makeup; their patterned and seamed stockings were care of Fogal, a Swiss retailer that also has a new line of Gatsby-inspired products.
Moet & Chandon, meanwhile, is trumpeting a champagne cocktail on the official Gatsby site created by a bartender at the Plaza Hotel, a further title sponsor. The Plaza sold Gatsby-themed "experiences" all spring, including a "Fitzgerald suite" and Prohibition-era cocktail hours (though offering guests drunken arguments in stifling rooms would be truer to the novel).
To what end? The film hasn't been the blockbuster it was supposed to be. After a dazzling $51.1 million opening weekend in North America, it quickly lost momentum at the box office. Over Memorial Day weekend, it was a distant No. 6, far behind the top-performing Fast & Furious 6 (a spectacle that does not have its own champagne cocktail).
However, the pre-show buzz may have been enough. The Gatsby bump Tiffany crowed about Tuesday morning was for the quarter ended April 30; the movie didn't hit theaters until May 10 in the U.S. and May 15 abroad. The results suggest that the potential for product tie-ins isn't limited to kids. The Gatsby brand has been around for a while, and it may even retain its luster once Vin Diesel's latest vehicle has sped off with summer ticket sales.
Before it's here, it's on the Bloomberg Terminal.
LEARN MORE