The Best Undergraduate B-Schools for Operations Management
Geoff Gloeckler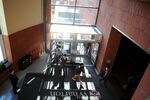 As part of the 2013 Best Undergraduate B-Schools ranking, Bloomberg Businessweek asked undergraduate business students from this year's graduating class to tell us, via an online survey, about their business school experience, from getting in to getting a job. One section of the survey singles out specific aspects of the business program and asks students to grade them on a scale from A to F. Over the next few weeks, we will publish the top 10 B-schools in each specialty area, from accounting to entrepreneurship, culminating with publication of the entire undergraduate specialty ranking, which will include 124 schools.
Today we look at operations management, a specialty that focuses on the processes involved in production and everyday business operations, whether on an assembly line, a supply chain, or even something as common as a movie theater queue. Leading the field in operations management is the University of Pennsylvania's Wharton School.
At Wharton, undergrads can concentrate their studies on operations and information management, or OPIM. As part of the concentration, students have the option to follow a general program of four courses or they can choose one of five designated tracks for a more focused curriculum. The tracks are: business analytics, decision processes, information systems, operations management/management science, and marketing and operations management. Specific courses available to majors include "Retail Supply Chain Management" and "Service Operations: Models and Applications."
Graduates from Wharton's program go on to positions in such areas as consulting, manufacturing, banking, and software development. OPIM majors made up about 18 percent of Wharton's undergrad Class of 2013.
Following Wharton is Washington University's Olin Business School, where students have the option to major in operations and supply chain management (OSCM). Similar to the structure at Wharton, majors take two core courses—required of all business students—then fulfill four additional courses, depending on their area of focus. Options include such courses as "Negotiation" and "Marketing Research." In addition, many students engage in hands-on work through the school's Center for Experiential Learning, as well as the Boeing Center for Technology, Information and Manufacturing.
Following Wharton and Olin in the operations management ranks are Carnegie Mellon's Tepper School of Business and the b-school at Worcester Polytechnic Institute. Below is the list of the top 10 schools.
Top Undergraduate Business Schools for Operations Management
| | | |
| --- | --- | --- |
| 1. | Pennsylvania (Wharton) | 1.133 |
| 2. | Washington (Olin) | 1.137 |
| 3. | Carnegie Mellon (Tepper) | 1.139 |
| 4. | Worcester Polytechnic | 1.154 |
| 5. | Michigan (Ross) | 1.200 |
| 6. | North Carolina State (Poole) | 1.204 |
| 7. | North Carolina (Kenan-Flagler) | 1.206 |
| 8. | Boston U. | 1.215 |
| 9. | Georgia Tech (Scheller) | 1.221 |
| 10. | Buffalo | 1.239 |
Methodology: The ranking is based on student responses to a question asking them to rank their program's operations management offerings. Points are awarded for each response—ranging from one point for an A grade through five points for a grade of F—and they are then averaged for each school. If students did not have exposure to the area in question, they could answer NA and their response was not included. The ranking is based on the average; schools with the lowest average are ranked the highest. The average operations management score for all 124 undergraduate business schools in the ranking was 1.52.
Join the discussion on the Bloomberg Businessweek Business School Forum, visit us on Facebook, and follow @BWbschools on Twitter.