Nike to Cut Tie With Livestrong Charity Following Armstrong Exit
Mason Levinson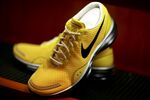 Nike Inc., which helped Lance Armstrong build his Livestrong cancer charity into one of the nation's best-known brands, will cut ties with the organization more than seven months after dropping the cyclist for his links to performance-enhancing drug use.
Beaverton, Oregon-based Nike and Livestrong are dissolving their partnership after nine years, having raised more than $100 million, the Austin, Texas-based charity said in a statement.
"This news will prompt some to jump to negative conclusions about the foundation's future," Livestrong said in the statement. "We see things quite differently. We expected and planned for changes like this and are therefore in a good position to adjust swiftly and move forward with our patient-focused work."
E-mail and phone messages left for Mary Remuzzi, a spokeswoman for Nike, seeking comment from the company weren't immediately returned.
Nike, the world's largest sporting-goods company, signed a five-year contract in 2010 to pay the Lance Armstrong Foundation, now known as Livestrong, at least $7.5 million annually from profits generated by merchandise sales, according to Outside Magazine.
Along with a full line of apparel, Nike created the iconic yellow plastic bracelets -- of which more than 80 million were sold -- that became the symbol of Livestrong.
Nike said in a statement when it fired Armstrong in October that it would continue to "support" Livestrong, without elaborating.
Cancer Funds
Livestrong, founded by Armstrong in 1997, has served 2.5 million people affected by cancer and raised more than $500 million to support those affected by cancer, according to its website.
Armstrong, the seven-time Tour de France winner who survived testicular cancer before founding Livestrong, stepped down as the organization's chairman on the same day Nike dropped him. In November, he resigned from Livestrong's board.
In a January interview with Oprah Winfrey, Armstrong said he used performance-enhancing drugs throughout his career. He also said he sued and attempted to undermine anyone who attempted to divulge his secrets. Armstrong made at least $221 million since turning professional, according to a compilation of his earnings by Bloomberg News.
Before it's here, it's on the Bloomberg Terminal.
LEARN MORE