Corn Climbs to Three-Week High on Slow Planting; Soybeans Rise
Jeff Wilson and Whitney McFerron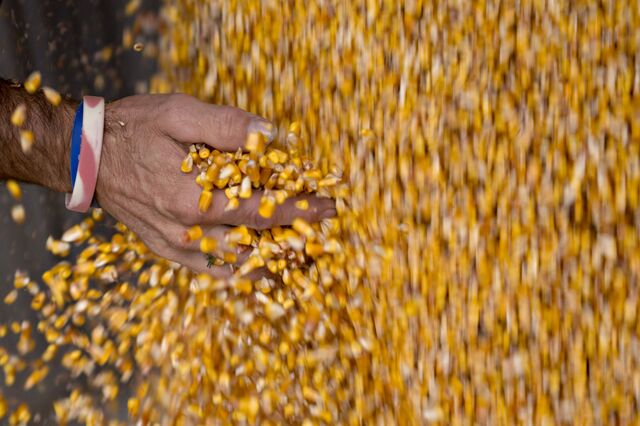 Corn for delivery after the U.S. harvest rose to the highest in more than three weeks before a government report today that may show wet weather slowed planting in the Midwest. Soybeans gained and wheat declined.
Parts of Iowa, Illinois, Missouri and South Dakota had as much as 6 inches (15 centimeters) of rain during the past three days, causing flooding and delaying planting, Commodity Weather Group LLC said in a report. Fields from Missouri to Michigan may receive another 3 inches beginning May 30. Seventy-one percent of corn and 24 percent of soybeans were planted in the main U.S. growing areas as of May 19, trailing the five-year average, the U.S. Department of Agriculture said last week.
"Excessive rain has become a major concern," Joseph Vaclavik, the president of Standard Grain Inc. in Chicago, said in a report to clients today. "Traders are already weighing the possibility of significant acreage loss as a result of the wet-weather patterns."
Corn futures for December delivery rose 2.7 percent to close at $5.51 a bushel at 1:15 p.m. on the Chicago Board of Trade, after reaching $5.5425, the highest for that contract since May 3. Corn futures for delivery in July increased 1.4 percent to $6.665, the third gain in four sessions.
Soybean futures for July delivery, the most-active contract by open interest, climbed 2.2 percent to $15.0925 a bushel in Chicago. November soybean futures rose 3.2 percent to $12.88, the biggest gain for the contract since March 2011.
Markets in the U.S. were closed yesterday for a public holiday.
Corn Planting
Corn planting is expected to rise to 85 percent to 90 percent completed as of May 26, compared with 90 percent on average the past five years, Vaclavik said in the report. Soybean sowing may rise to 45 percent completed.
The USDA estimated May 10 that the corn harvest will rise to a record 359.17 million metric tons this year, as farmers plant the most acres since 1936 and fields recover from last year's drought. Soybean output may be 92.26 million tons, also the highest ever. Crops planted after mid-May in Iowa may be at risk of yield losses, according to Iowa State University data.
Wheat futures for July delivery dropped 0.5 percent to $6.9375 a bushel on the CBOT.
Rain improved crops in parts of central Ukraine and northeastern Russia the past three days and warm, wet weather the next 10 days will aid wheat development, Commodity Weather Group said in a report today.
Before it's here, it's on the Bloomberg Terminal.
LEARN MORE