Chinese Tourists Behaving Badly
By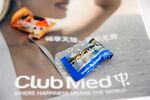 An act of vandalism by a 15-year-old from China on a vacation in Egypt has sparked a Chinese debate about tourist misbehavior and national shame. While traveling with his family in Luxor, the boy wrote "Ding Minhao was here" on an ancient Egyptian relic that dated back 3,000 years. Another Chinese tourist snapped a photo of the vandalism and posted the shot online. An uproar ensued. The boy's parents have now apologized and asked for forgiveness, while Chinese cyberspace is filled with accounts of thoughtless Chinese visitors leaving their marks at tourist sites worldwide.
Even the official Xinhua news agency has gotten in on the act, running photos of Chinese graffiti in such places as Egypt, Thailand, and Palau, as well as at home at the Forbidden City and the Great Wall. "We can't demand that every person behave as a paragon of civilization, but at the least every one of us can demand a civilized bottom line," Xinhua declared. "Nowadays as more and more Chinese are traveling abroad, we here make this appeal: Please don't forget you are not just representing yourself but also China."
Chinese increasingly are the driving force for the world's biggest tourism companies. China last year passed Germany and the U.S. to become the world's biggest source of tourists, the United Nations World Tourism Organization reported last month. Chinese travelers made 83.2 million overseas trips in 2012, Ma Yiliang, a researcher at the China Tourism Academy, told Bloomberg News. In 2000, Chinese made just 10 million trips. And Chinese are big spenders, with tourists from the mainland spending $102 billion on overseas trips last year, a 40 percent jump over 2011 spending.
At home, the Chinese tourism business is benefiting from increased spending (PDF), too. The country was the No. 4 tourist destination last year, with $50 billion in international tourism receipts, behind only the U.S. (No. 1, at $128.6 billion), Spain ($55.9 billion) and France ($53.7 billion). In 2005, China was ranked No. 7, at $29.3 billion; it has since passed Italy, Japan, France, and the U.K.
The latest sign that the Chinese have arrived on the global tourist scene is a proposed acquisition by a Chinese company for Club Med. Fosun International, a Shanghai-based company that's part of the Fosun Group, a conglomerate with interests in everything from pharmaceuticals to steel to finance, is teaming up with Axa Private Equity in a buyout of Club Mediterranean, the companies announced today in a statement. Club Med currently has two resorts in China—a ski resort in the northeast and an art-themed resort in a sculpture park in the southeastern city of Guilin—and it seems likely that more will be on the way, once Fosun enters the picture. "We have the means to face short-term uncertainties to support the development of Club Mediterranean, in particular in Asia," said Qian Jiannong of Fosun Group.
Lots of other executives in the tourism industry are eyeing Chinese travelers. Hotel chains like Starwood and InterContinental have big plans to add hotels in China, and Walt Disney Co. is working on a new theme park in China, scheduled to open in 2015. Disney rival Dreamworks Animation is trying to get in on the action, too. The company signed a licensing agreement with Sands China last month, giving Sheldon Adelson's casino and hotel operator permission to use such Dreamworks characters as Shrek and Kung Fu Panda in parades and shows at its three Macau resorts. The former Portuguese colony is the only place with legalized casino gambling in China and is a main draw for Chinese tourists. "China is the fastest-growing, greatest place of opportunity on planet earth," said Jeffrey Katzenberg, chief executive officer at Dreamsworks. "I am confident this is only the beginning of something much bigger."
Before it's here, it's on the Bloomberg Terminal.
LEARN MORE