Bank Rolling: This Bike Brought to You by Citi
By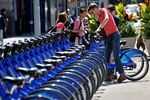 A massive publicity peloton for Citigroup swept into the streets of New York City this week following the launch of a bike-share system with 6,000 brilliant blue bicycles, each decorated with a Citi logo. The bank will shell out $41 million over the next five years as title sponsor of the Citi Bike program.
The program is expected to make money from user fees, but Citi and MasterCard, the other corporate sponsor, won't see any of that. Profits will be split by the government and Alta Bicycle Share, the company handling logistics for a network that stretches from southern Manhattan into northern Brooklyn.
What is Citi getting for its money? So far, the giant bank has won some rave reviews from bikers and some indigenous outrage from those unhappy with the massive spread of corporate branding onto residential streets, some of which have rules against advertising. In the long run, with 74 percent of New Yorkers backing bike share in a poll last summer, the partnership might not be a bad one—and $41 million over five years is a rounding error for the company. The deal is right in line with the cost of a similar sponsorship arrangement in London, where Barclays is paying 25 million pounds ($38 million) over a five-year period to support the city's Cycle Hire.
But even at the outset, Citi's bike trip seems to be savvier than its baseball play. The bank pays $20 million a year as part of a 20-year agreement to keep its name on the Queens stadium that the lackluster New York Mets call home. Last year, some 2.24 million people streamed through the turnstiles at Citi Field. The Citi-branded bikes, by contrast, could very well cruise past more people every day as bike-share users pedal through the crowded core of a city with 8.2 million people.
There's no way to tally a return on investment for corporate sponsorship of a new public amenity. Bankrolling a fleet of bikes goes beyond branding and business development and into a sort of philanthropy (much like supporting the Mets). Though philanthropy, of course, is a form of branding and business development.
There's also the quaint It's a Wonderful Life notion of a bank being a part of the community it serves, a motive that can't be counted out in the wake of the financial crisis that can still generate headlines like this for Citi. Forget all those toxic mortgages, because, you know, bikes!