Ask the Expert: The Value of Business Plan Competitions
Geoff Gloeckler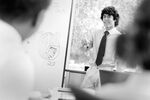 We get a lot of questions from potential business students in our forums, on Twitter, and via e-mail about all kinds of topics, from admissions to career services and everything in-between. In the Ask the Expert feature, we take your questions and get them answered by the most qualified individuals we can find.
Today's question, edited for length and clarity, is about  business plan competitions. It comes from a participant on the B-school forums (where use of real names is not required) who goes by the screen name Greenteamlp.
Greenteamlp asks:
"I just started my first year of B-school and I am doing it in a foreign country through an international MBA program. I am very focused on my life after this MBA program. I want to ensure that I come across as a highly desired/employable as soon as that diploma touches my finger tips. I already struggled landing a job with a B.A. and I don't want to start from square one with a Masters, too. I have been researching business plan competitions for MBA students that offer opportunities to network with the sponsoring companies and talk to recruiters. I have never participated in a business plan competition, but it does not seem impossible to do while still being enrolled full-time as a student.
"If you have participated in a business plan competition or a formal MBA case competition, can you share your experiences with me? Was it do-able? Worth-while? Overwhelming? Dare I say, fun?"
For the answer to Greenteamlp's question, we reached out to Michael Schrader, who was a member of the winning team in Harvard Business School's 2012 New Venture Competition. His team pitched a plan for Vaxess Technologies, which stabilizes vaccines into a thin film strip that can be shipped and stored without refrigeration, making it possible to vaccinate children in the developing world and prevent unnecessary deaths. Schrader currently serves as the company's chief executive officer.
"Greenteamlp, I can say with certainty that business plan competitions are worth pursuing, possible to do while completing an MBA, and potentially life-changing.,"
"In my case, I had always contemplated pursuing entrepreneurship full time but, like many students, questioned whether or not I really had the skills to do it successfully. During my second year of B-school, I worked with a talented team of graduate students with diverse backgrounds to enter a number of business plan competitions, including the HBS competition, MIT $100K, Harvard President's Challenge, and MassChallenge. Our team was fortunate to have some successes in a number of these competitions, which ultimately led to the launching of our company, Vaxess Technologies, last summer. Since then, we have hit a number of key milestones including the recent closing of our Series A venture capital round.
"Business plan competitions provide a number of benefits, but I would say the most valuable were the confidence that came with competing, the publicity that the win generated, and most important, the pressure-testing that came from the judging panels. The win allowed us to get meetings with quite a few investors and the preparation meant that we were confident walking into those VC board rooms and taking the onslaught of questions they threw at us. In the end, I would say you are doing yourself a great disservice by not participating in at least one competition during your time in school. Good luck with the adventure!"
Have a question for a B-School expert? Post it in our forums or tweet it to us with the hashtag #bschoolexpert and we'll get it answered for you.
Before it's here, it's on the Bloomberg Terminal.
LEARN MORE