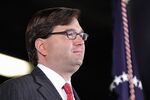 The Council of Economic Advisers is traditionally a small refuge of ivory-tower academia inside a president's administration, but it might look considerably more political, and policy-oriented, if Jason Furman is chosen to head it.
Bloomberg News reported today that President Obama plans to nominate Furman, "well-versed in staff rivalries and relationships," to replace Princeton University economist Alan Krueger as head of the council.
Furman is principal deputy director of the National Economic Council, which coordinates economic advice for the president and is thus more of a policy-making operation than the academically inclined Council of Economic Advisers. The CEA, which is supposed to have three members plus a small staff, makes recommendations to the president on economic matters and briefs him on data such as the monthly jobs report.
In contrast to Krueger, a lifelong scholar who used the CEA as a bully pulpit for presenting economic concepts, Furman has been involved in policy for years. In 1996, while still in graduate school, he landed a one-year post as special assistant to President Bill Clinton for economic policy. He also worked as a senior economic adviser to World Bank Chief Economist Joseph Stiglitz and for Clinton's National Economic Council. He advised Al Gore on his 2000 presidential campaign, Wesley Clark and then John Kerry in 2004, and Obama in 2008.
Furman somehow found time between advising gigs to earn his Ph.D. in economics from Harvard University in 2003. From 2007 to 2009 he directed the Brookings Institution's Hamilton Project, which was founded by Clinton Treasury Secretary Robert Rubin. In 2009, when Obama became president, Furman took his current post at the National Economic Council.
Jared Bernstein, former economic adviser to Vice President Joe Biden, praised Furman in a blog post and said "Furmanomics" consists of:
• Progressive taxation that raises ample revenue;
• Boosting efficiencies and squeezing out inefficiencies in the tax code and the health-care system;
• Solidly Keynesian in recession (he was ally in those arguments back in the day);
• Crafting policies with a clear eye to implementation constraints (something you only develop from pretty long experience in the gov't sector);
• Strong supporter of the safety net …
Past chairs of the CEA, which goes back to 1946, have included Walter Heller, Arthur Okun, Herbert Stein, Alan Greenspan, Martin Feldstein, Joseph Stiglitz, Janet Yellen, Ben Bernanke, and Christina Romer.
Before it's here, it's on the Bloomberg Terminal.
LEARN MORE