pursuits
As Rich Parisians Flee the Taxman, Real Estate Prices Fall
By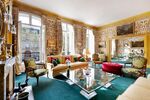 If you've dreamed of buying a luxurious Paris pied à terre, this could be the time to act. Real-estate agencies specializing in high-end Paris properties say prices are down 10 percent to 20 percent this year. The inventory of unsold properties has been rising as the French economy stagnates and some wealthy owners flee the country to escape new taxes on the rich.
"There are some opportunities now—properties that have never been on the market before," says Marie-Hélène Lundgreen, director of the Belles Demeures de France agency. Lundgreen's agency recently sold a Paris mansion that had been in the same French family for generations, to a Brazilian buyer.
Richard Tzipine, who heads the Paris office of the Barnes International agency, says his stock of unsold properties has risen about 50 percent over the past year. Among the reasons: higher taxes imposed since President François Hollande took office last year, including an increase in a levy on wealthy households' assets and a new 75 percent tax on incomes over €1 million ($1.29 million) annually. "I've personally seen a number of clients who are going to live in other countries," including Belgium, Britain, and Switzerland, Tzipine says.
As the French sell, foreigners buy. Jean-Philippe Roux, director of the Paris office of John Taylor Luxury Real Estate, says foreigners bought 70 percent of the properties sold by his agency during the first quarter of this year. Lebanese, Russians, and Chinese are among the most frequent buyers, he said.
Each nationality has special preferences, Roux says. Most Chinese buyers "want a view of the Eiffel Tower and a large reception area" because they tend to use their Paris residences for business purposes. Russians, on the other hand, prefer digs near the Avenue Montaigne luxury shopping area, off the Champs Elysées.
Even if prices are coming down, they certainly aren't cheap. Properties listed by high-end agencies generally start at €2 million euros, and some cost much more. If you have to ask … well, that pied à terre may need to remain in your dreams.
See the accompanying slideshow for examples of some currently listed and recently sold properties.
Before it's here, it's on the Bloomberg Terminal.
LEARN MORE