With Beer Deal, Harley-Davidson Rides the High Life
by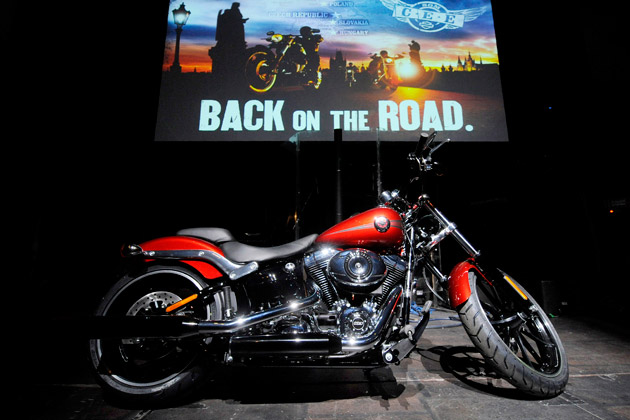 Most automakers might slam the brakes on a marketing partnership with a beer company for, well, obvious reasons. Not so for Milwaukee neighbors Harley-Davidson and Miller High Life, which this week announced a multiyear collaboration that will produce Harley-branded beer cans and High Life-styled hogs in time for summer.
The two products are celebrating overlapping 110th anniversaries this year, and while they've teamed up for marketing events over the past two decades, this marks the brands' first long-term arrangement. But don't expect to see motorcycles running on tanks full of the "Champagne of Beers." To start, the pact will bring commemorative Harley-Davidson designs to 16-ounce High Life cans and the packaging for 12-ounce bottles. Also, 150 Harleys decked out in High Life graphics will be given away.
Bill Davidson, vice president of the Harley-Davidson Museum (and great-grandson of Harley-Davidson co-founder William A. Davidson), even helped make a batch of High Life on Wednesday that will be mixed in with regular brews to produce 6,500 barrels—the equivalent of 2 million 12-oz. cans. The beers touched by hog royalty won't be specially labeled, though, so don't get too excited.
In response to the potential pitfalls a drinking-and-driving brand alliance could present, Ashley Selman, marketing director for heritage and economy brands at MillerCoors, noted the opportunities created by the pact to discuss safety. Miller High Life will be encouraging safe riding online and via social media while also asking riders at motorcycle events to take a safe-riding pledge. Harley-Davidson did not reply to e-mailed questions.
"I think less of it as a beer company and a motorcycle company and more of it as the Miller High Life brand and the Harley-Davidson brand," Selman says. "These are two brands that are all about heritage, all about craftsmanship, all about quality. They are two iconic American brands." (Beer. Motorcycles. America!)
Miller does not have partnerships with other carmakers, according to Selman. Located across the street from each other in Milwaukee, the two brands have been aligned since Miller's sponsorship of Harley-Davidson's 90th anniversary celebration in 1993. They came together again for Harley's 95th, 100th, and 105th anniversaries, and turned out a Miller Lite/Harley-Davidson stock car for Nascar events in 2000.
Before it's here, it's on the Bloomberg Terminal.
LEARN MORE