UNC Loses a B-School Dean, Gains a Provost
Louis Lavelle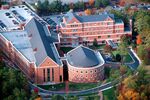 The Kenan-Flagler Business School at the University of North Carolina, Chapel Hill, is losing its dean, Jim Dean, who has been appointed executive vice chancellor and provost for the university effective July 1.

The appointment was announced to the campus community on May 23 in an e-mail from Chancellor Holden Thorp and Chancellor-Elect Carol Folt, following a vote by the University's board of trustees earlier in the day.
Dean will fill the vacancy created by the departure of Bruce Carney, a professor of physics and astronomy who has been provost since 2009; Carney is returning to teaching and research. An interim replacement for Dean has not been named. A national search for a replacement is expected, but a search committee has not yet been appointed.
Dean, a professor of leadership and organizational behavior, joined the Kenan-Flagler faculty in 1997 and served in a number of administrative positions—including associate dean of the MBA program, where he led a curriculum redesign—before becoming dean of the business school in 2008. Dean will be leaving Kenan-Flagler's full-time MBA program with the same Bloomberg Businessweek No. 17 ranking it had  when he took the helm. The program, with an enrollment of 582 students, places about nine of 10 graduates in jobs paying an average of more than $100,000 a year.
Dean was quick to understand the importance of high-quality online education, launching Kenan-Flagler's online MBA program, MBA@UNC,  in 2011 at the then-unheard of price of $89,000. The program, unlike many others, has the same admission standards, and uses the same professors, as the school's well-regarded full-time program. It was considered a bold move at the time, but the program has grown considerably since then, and other programs, including Carnegie Mellon's Tepper School of Business, have since followed suit.
Join the discussion on the Bloomberg Businessweek Business School Forum, visit us on Facebook, and follow @BWbschools on Twitter.
Before it's here, it's on the Bloomberg Terminal.
LEARN MORE