Stephen Lynch Says He Wasn't Cowed by Tom Steyer on Keystone
By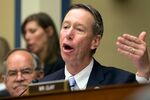 On Wednesday, the House passed a bill that would fast-track approval of the Keystone pipeline. (The bill is formally H.R. 3.) A number of Democrats who, in the past, have supported the pipeline's approval voted against the measure. Massachusetts Representative Stephen Lynch was one of them. Lynch's apparent switch is noteworthy because during his recent Senate primary against Representative Ed Markey—a Keystone supporter—Lynch was targeted by environmentalists because he said he favored constructing the pipeline. Last month, I profiled Tom Steyer, the billionaire co-founder of Farallon Capital Management, who poured $630,000 into the Massachusetts Senate primary to thwart Lynch (and help Markey); he even sent Lynch a letter demanding that he switch his position on the Keystone pipeline.
So was Lynch cowed into opposing Keystone? In a word, no. He sent along this statement:
"H.R. 3 was a blatant attempt to strip President Obama of his authority to conduct meaningful review of that project. The bill would set a very bad precedent and is very likely an example of unconstitutional overreach. For those reasons, I chose to oppose the bill. I have repeatedly supported enhanced review of this project and await the Administration's decision. I have enjoyed a strong lifetime record on environmental issues and I will continue to support efforts to meet our energy needs in a sustainable way. My vote on H.R. 3 is consistent with my earlier positions."
Before it's here, it's on the Bloomberg Terminal.
LEARN MORE