Sony's 4K TVs Are Ready, but There's Nothing On
By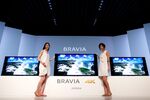 The TV industry has a message: Regardless of its age, your television is obsolete and you need a better one with even more eye-popping power.
The first serious move to bring the next generation of "4K" ultra-high resolution flat-panel displays to a wider audience began this week as Sony introduced two models not aimed solely at one percenters. The 4K Ultra HD televisions are said to display roughly four times the resolution of current high-definition models, which are 1920 x 1080, commonly called 1080p. The new 4K standard expands that to a screen resolution of 3840 x 2160, which is also said to offer richer, more saturated colors than current sets.
As with most bleeding-edge consumer tech, these new displays started out with cringe-inducing price tags. Sony's first model, an 84-inch Ultra HD set, was introduced in November and costs $25,000. An 85-inch 4K model from Samsung Electronics was more than $45,000 when it was introduced, while the LG Electronics 84-inch model is $20,000. Three years ago—to test the limits of what's possible, as much as for any other reason—Panasonic built a 4K, 152-inch plasma display. You could buy it for only $500,000.
Those stratospheric prices are now falling within the reach of consumers willing to spend on the newest technology. Sony will begin selling 55-inch and 65-inch models, priced at $4,999 and $6,999, respectively, on its website and at Best Buy's Magnolia home-theater showrooms. Rival Samsung plans to release two new 4K models next month in Korea before a wider rollout, with prices expected to be in line with Sony's.
Another big hitch: No native content is currently available on DVD at the new resolution. Most of Hollywood's newer films are shot at resolutions that would support future 4K releases, however, and some new Blu-ray DVD players will upscale current resolutions to 4K.
The trouble for consumer-gadget peddlers will be to make the commercial case for 4K releases as the displays make their debut with what's expected to be very slow sales. The Blu-ray Disc Association, the industry consortium that oversees standards for the format, said in April that it expects to decide how to extend the format this year, with commercial 4K Blu-ray discs potentially available in 2014 to complement the handful of 4K sets expected to be on the market by then.
Even without delving into the sales morass of 3D television in recent years, it's far from clear that hordes of consumers are itching for higher resolutions—often described, inaccurately, as "clearer" and "brighter"—in their living rooms. Unless you're packing a 50-inch or larger screen in the den, you probably aren't even experiencing most of the current resolution's capability. And that caveat is even truer for the new higher-resolution displays, where 60 inches is likely to be the size of entry to really notice.
The economics of the new sets aren't well established yet. Panasonic's new flagship, the ZT60 plasma display at the current 1080p resolution, will retail for $4,100 for the 65-inch model and has already generated enormous enthusiasm in the video-nerd subculture. That pricing is possible even without a major leap on the technical front, with all due apologies to Panasonic's "Ultimate Black" plasma innovations.
So start saving your pennies for an upgrade, kids—and then keep saving. Because the industry already has an 8K standard in the works.