business
Procter & Gamble Hopes to Get Some Lafley Magic Back
By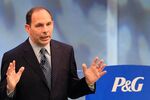 Taking a page from the J.C. Penney playbook, Procter & Gamble is turning to its former chief executive to help right a consumer products giant beset by agitated investors and an R&D pipeline that has fizzled in recent years.
A.G. Lafley, 65, P&G's boss from 2000 until his 2009 retirement, is returning to the Cincinnati-based company as chairman and CEO when Robert McDonald, 59, formally retires June 30. (Or, ahem, "retires," as the Financial Times put it.) Indeed, last summer, rumors circulated that P&G board members were considering who might replace McDonald—never an auspicious sign of a CEO's longevity.
"This announcement is not indicative of any kind of bigger problem or financial issue," P&G's chief financial officer, Jon Moeller, said in a three-minute conference call Friday morning, adding that Lafley's hiring "won't result in a dramatic change in our strategies or priorities."
Under McDonald, who worked as a Lafley's deputy before assuming the top job, P&G has been trying to cut expenses and rejuvenate its research efforts, while aiming to grab a larger share of the consumer products market in developing markets. But his tenure has been marked by weak financial performance that has irritated investors, chief among them Bill Ackman, the head of Pershing Square Capital Management.
Ackman, with a $2.2 billion stake in the company, argued in a May 8 presentation at the Ira Sohn investment conference that P&G has been "vastly underperforming" relative to its earnings ability. He further criticized P&G's organizational structure, return on marketing investments, suboptimal pricing, and bloated overhead costs, arguing that the company had never fully integrated Lafley's 2005 purchase of Gillette for $53 billion. Pershing analysts also say P&G's organic sales growth of 3 percent in 2012 trailed all its rivals, including Unilever, Colgate, Kimberly-Clark, and L'Oréal.
Ackman also criticized McDonald for serving on the boards of nearly two dozen organizations, taking his focus away from P&G. (Another large Ackman investment, JC Penney, recently rehired former CEO Myron Ullman after an 18-month tenure by former Apple retail chief Ron Johnson was marked by a dramatic decline in sales.)
One of the biggest areas of concern for P&G—the marketing juggernaut that launched Pampers, Febreze, and Swiffer cleaners—has been the lack of a blockbuster new product for more than a decade. McDonald was forced to cut his profit target three times last year.
Before it's here, it's on the Bloomberg Terminal.
LEARN MORE