NYC Weekend: Shins, Tom Petty, New Beer Garden, Guare
undefined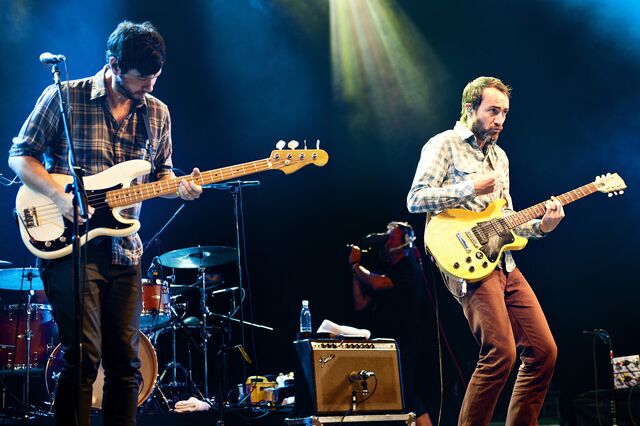 The Shins, Tom Petty and the Heartbreakers and a new outdoor place to settle back, drink beer and play a little ping pong are among Muse weekend highlights.
NIGHT LIFE
The Shins kick off the summer concert season with their happy melodic pop, appearing at Williamsburg Park on Sunday. Philly's experimental band Man Man opens. North 12th St. and Kent Ave. Information: http://www.theshins.com/home.
Catch rock greats Tom Petty and the Heartbreakers during their intimate stint at the Beacon Theater this weekend, playing faves and perhaps debuting new material from the upcoming album. Information: +1-866-858-0008; http://www.beacontheatre.com.
ART
Ellsworth Kelly turns 90 at the end of the month, and to celebrate the Museum of Modern Art is showing the first paintings the artist created in the much larger studio he found after leaving the city for upstate New York in 1970. "Ellsworth Kelly: Chatham Series" runs through Sept. 8 at 11 W. 53rd St. Information: +1-212-708-9400; http://www.moma.org.
Kelly's recent work is on view at Matthew Marks Gallery through June 29 at 523 W. 24th St. Information: +1-212-243-0200; http://www.matthewmarks.com.
Koloman Moser was co-founder -- with Josef Hoffmann -- of the Wiener Werkstatte. In the first U.S. museum retrospective devoted to the Austrian artist and designer, the Neue Galerie brings together more than 200 of his works, including graphic design, furniture, textiles and ceramics. "Koloman Moser: Designing Modern Vienna 1897-1907" runs through Sept. 2 at 1048 Fifth Ave. Information: +1-212-628-6200; http://www.neuegalerie.org.
The Metropolitan Museum of Art's spiffed up and enlarged galleries for European paintings from 1250 to 1800 have just opened to the public and are certainly worth a look. There are stunning Breugels, Rembrandts and Goyas, more than 700 works in all, including the five Vermeers. At 1000 Fifth Ave. Information: +1-212-535-7710; http://www.metmuseum.org.
MUSIC
The New York Philharmonic heads uptown for the traditional Memorial Day concert at St. John the Divine. Alan Gilbert is on the podium for Bruckner's monumental Symphony No. 3 in D Minor, the "Wagner." Free tickets will be handed out at 6 p.m. at 1047 Amsterdam Ave. Information: +1-212-875-5656; http://nyphil.org.
The New York Youth Symphony celebrates its 50th anniversary this season. On Sunday afternoon at Carnegie Hall, the ensemble plays Beethoven and Mahler, plus the world premiere of John Glover's song cycle, "Natural Systems," with rising bass-baritone Evan Hughes. At 57th St and 7th Ave. Information: +1-212-247-7800; http://www.carnegiehall.org.
STAGE
John Guare's new play, "3 Kinds of Exile" is about Eastern European artists in political turmoil. The author of "Six Degrees of Separation" and "The House of Blue Leaves" is also making his Off-Broadway acting debut. In previews at the Linda Gross Theater, 336 W. 20th St., for a June 11 opening. Information: +1-212-691-5919; http://atlantictheater.org.
Kate Mulgrew and Kathleen Chalfant star in "Somewhere Fun," a new play by Jenny Schwartz about old friends who run into each other on Madison Avenue 35 years later. Anne Kauffman directs. Runs through June 23 at 108 E. 15th St. Information: +1-212-353-0303; http://www.vineyardtheatre.org.
WINING & DINING
Blue Ribbon Beer Garden, from Eric and Bruce Bromberg, just opened on the second-floor terrace of the Thompson LES Hotel, serving barbecue, black-eyed-pea salad, local and large-format beer. There's ping pong, board games and a tent to keep out storms. At 190 Allen St. Information: +1-212-466-0404; http://www.blueribbonrestaurants.com/restaurants.htm.
Michael White's new steakhouse, Costata -- "rib-eye" in Italian -- has aged beef, served with his signature handmade pastas. Start with a rhubarb gimlet and a plate of oysters. At 206 Spring St. Information: +1-212-334-3320; http://costatanyc.com.
OUTDOORS
Visit the New York Botanical Garden for "Wild Medicine," a look at how mankind has always depended on the plant kingdom. There's a recreated Italian Renaissance garden, along with period music and dance. Kids will enjoy "Commedia Dell'Arte" in the Everett Children's Adventure Garden. And of course there are 250 gorgeous acres to explore. At 2900 Southern Boulevard, Bronx. Information: +1-718-817-8700; http://www.nybg.org.
FOR KIDS
During Knightwatch Medieval on Friday night at St. John the Divine, kids 6 to 12 will get a noble title and coat of arms, be led on a scavenger hunt by a court jester to help a spell-bound princess, star-crossed lovers and a shy knight with an embarrassing problem. There will be medieval songs, dances and art projects, plus a storyteller will lull the company to sleep in the great nave of the Cathedral. At 1047 Amsterdam Ave. Information: +1-212-316-7540; http://www.stjohndivine.org.
(Zinta Lundborg is an editor for Muse, the arts and leisure section of Bloomberg News. The opinions expressed are her own.)
Muse highlights include Lewis Lapham's podcast and Greg Evans on movies.
Before it's here, it's on the Bloomberg Terminal.
LEARN MORE