Long Beach Island Is Ready for the Summer After Sandy
by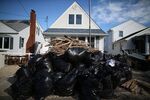 Though its been just over half a year since Hurricane Sandy wreaked havoc along the New Jersey coast, this Memorial Day weekend looks to be a typical start of the summer season on Long Beach Island: Families will fill homes that were vacant for months, renters will flood in on weekends, and year-round residents will grumble about the stop lights that are turned back on to handle increased traffic.
In January, three months after the storm, I reported how the hazards of oceanfront living laid bare by Hurricane Sandy didn't appear to be scaring away home buyers. I spent time on LBI with real estate agent Nathan Colmer, a fourth-generation Long Beach Islander.
"The storm is still on everyone's mind," Colmer says. Prospective buyers ask questions about Sandy—largely about the costs of flood insurance—but he says the real estate market continues to be active.
In the months following the storm, most buyers were looking for damaged homes they could purchase at a discount and demolish to rebuild from scratch. With fewer distressed properties on the market now, "more recently sales have been houses that are more move-in ready," Colmer says. The storm has sharply reduced the volume of sales on the island, according to stats he has compiled. During March and April, 36 single-family homes sold, exactly half as many as in 2012. Prices, however, are up for homes that weren't damaged in the storm because fewer are available. In March, for example, the average price for an undamaged home was just over $1 million, compared with $822,691 a year earlier.
LBI has a large vacation rental market. Colmer says rentals are down about 20 percent, largely because property damage has kept units off the market. And while the rental process was conducted largely online or over the phone, "this year it's more people coming to see in person," he says.
All told, "the island is doing well," says Colmer. "Things are up back and running." Supermarkets have reopened, as have stores and restaurants. On Monday, the stop lights will flick on per their regular schedule—slowing traffic, "much to our chagrin."
Before it's here, it's on the Bloomberg Terminal.
LEARN MORE