HSBC Says 'Worrying' Countries Act Unilaterally on Rules
Howard Mustoe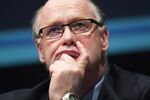 HSBC Holdings Plc Chairman Douglas Flint said it's "worrying" that more countries are acting unilaterally on regulation as financial oversight undergoes its biggest change since the Great Depression of the 1930s.
"This puts at risk globally consistent regulation and also risks 'Balkanizing' firms' capital and liquidity resources," Flint told shareholders at the bank's annual meeting in London today. "This risks a retreat from globalization and greater financial exclusion -- neither consistent with the pursuit of growth." He didn't mention specific countries.
Flint's comments come as Peter Sands, chief executive officer of Standard Chartered Plc, the other U.K. bank that gains most of its profit in Asia, said yesterday British banks face an "avalanche" of regulation with rules imposed "increasingly at the national level."
Flint apologized after the HSBC agreed in December to settle U.S. charges that it helped Mexican and Colombian drug cartels launder millions of dollars in trafficking proceeds. It has set aside $1.9 billion for settlements, while increasing spending on compliance by $500 million in 2012.
"We were humbled and horrified to discover failings of such magnitude," Flint, 57, told shareholders. The bank has "paid huge penalties both in monetary cost and reputational damage. And I take this opportunity to apologize again in person."
Increased Dividend
HSBC in March increased its 2012 dividend by 10 percent from 2011 to 45 cents a share. The payout ratio will remain at 40 percent to 60 percent of earnings for the next three-year period, the bank said today.
The bank's shares have gained 13 percent this year, in line with the six-member FTSE 350 Banks index.
All resolutions were passed at the shareholder meeting. About 11 percent of shares were cast against the directors' compensation report. David Haslam, a shareholder and Methodist minister from Evesham, England who previously preached in London for 35 years, said bankers' bonuses should be reduced because they are "totally disproportionate to what is delivered."
"Somebody has got to take a lead on this," he said after the meeting. "It's an industry issue."
Last month, Barclays Plc, the U.K.'s second-largest bank by assets, said 5.3 percent of shareholders opposed its executive-pay report at its annual general meeting as Chairman David Walker said the era of excessive compensation is behind the bank.
Tax Havens
HSBC is reviewing its business in tax havens, said Flint. While some markets where tax is low, such as Hong Kong, would not be dropped, the company may "significantly reduce" the business it does through tax havens, he said.
Chief Executive Officer Stuart Gulliver answered a question from British comedian and naturalist Bill Oddie about logging in Sarawak on the Malaysian island of Borneo, which Oddie said was destroying natural forest and replacing it with palm oil plantations.
Gulliver said the bank had appointed consultant Proforest, to ensure its policies are being followed. HSBC doesn't provide finance for illegal loggers or those who operate at UNESCO world heritage sites and wetlands protected by the Ramsar Convention, according to its policy.
"What I'd like to do is invite you to work with us on this, because in all seriousness we can be a force for good," Gulliver said.
-- Editors: Jon Menon, Keith Campbell
Before it's here, it's on the Bloomberg Terminal.
LEARN MORE