Elizabeth Warren's Got a Book Deal
By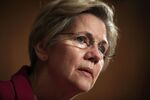 Come next spring, readers looking for some beach reading will have a new fiery choice: a memoir-meets-anti-Wall Street-call-to-arms book by Senator Elizabeth Warren (D-Mass.). Publisher Henry Holt says the book will chart "Warren's improbable rise from a working-class family in Oklahoma to the United States Senate" as well as the "conflict America now faces between giant institutions and the needs of everyday citizens."
In March, the Boston Globe reported that Warren had started shopping her book around with publishers under the working title "Rigged" and that she's working with attorney Robert Barnett, who negotiated book deals for many high-profile politicians, including President Barack Obama and former President Bill Clinton.
Warren has already written several books. Most are wonky tomes from her days in academia (Secured Credit: A Systems Approach, anyone?), but two that she co-wrote with her daughter have been aimed at a more mass-market audience. (The Two-Income Trap looked at the squeeze felt by middle-class families, while All Your Worth offered financial planning guidance.) Books have been lucrative for politicians—check out the Obamas' financial disclosures to see just how much they can bring in—and they've been good to Warren so far, too. In 2010 to 2011, she made $136,946 in royalties from her books, according to her financial disclosure forms.
There's little reason this book won't surpass that. Since her last book came out, she successfully championed the creation of the Consumer Financial Protection Bureau and became its first leader, and she was elected as a senator for Massachusetts. She has gladly taken the mantle as a leading liberal voice, one that my colleague Joshua Green says big banks are right to fear. Given all that, it's unlikely Warren's book will top many Wall Streeters' summer reading lists.
Before it's here, it's on the Bloomberg Terminal.
LEARN MORE