Eight Questions for Virgin Atlantic's New CEO
by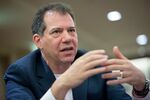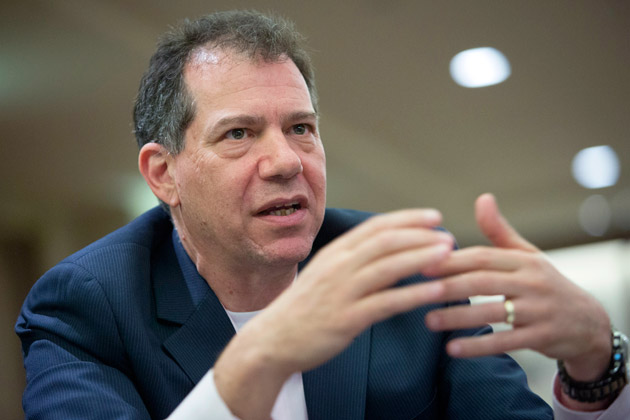 Craig Kreeger, the man now running Sir Richard Branson's original airline, Virgin Atlantic Airways, is an Arkansas native who spent 27 years at AMR's American Airlines, including a seven-year stint in London overseeing European and Asian operations. In the three months since starting his new job, Kreeger has encountered questions about what he might change at the notoriously frills-filled Virgin.
Kreeger flew to New York on May 23 to participate in today's opening festivities for Delta Air Lines' new Terminal 4 at John F. Kennedy International Airport. Five months ago, Delta acquired a 49 percent stake in Virgin formerly held by Singapore Airlines. The JFK terminal is a key part of the airlines' bid to bolster their share of the New York-London Heathrow corporate travel business, one of the most lucrative routes in all of aviation—and one currently dominated by the British Airways-American Airlines partnership.
Ahead of the airport event, Kreeger sat down with Bloomberg Businessweek at a Times Square hotel. Among the topics: Virgin Atlantic's efforts to return to profitability by 2015; the $75 million in annual cost savings that new, more fuel-efficient airplanes will offer; Virgin's trans-Atlantic joint-venture proposal with Delta; and why Kreeger wasn't in the job market when a headhunter rang in December about what he considers "the coolest job" in the airline industry.
American has been restructuring in bankruptcy. You really were not considering a new job?
No. It was out of the blue.
How will Virgin Atlantic change as Delta, a notoriously hands-on investor, starts to influence your business?
In the case of Delta, it's not just an equity deal, it's also a joint-venture deal. As a consequence, we're going to be working very closely with them on lots of things that have to do with our generating loyal customers on both sides of the ocean to effectively grow both of our revenues. I actually was asked by a cabin crew member on the way over sort of "How will our lives change when the Delta deal happens?" And while I was being perhaps a little simplistic, I said, "Well, I think the biggest change is that there's going to be a lot more people with American accents aboard our airplanes." And that's really how I think about this relationship. It's all about offering our U.K. base, which we sell very effectively to today … a lot more destinations to offer them. It's going to be a great network expansion for us.
What about the perceived gap that consumers may have about the product between Delta and Virgin Atlantic?
Look, my take on Delta is they've invested an awful lot over the last several years, and we're very comfortable selling the Delta experience to our customers. But together, Delta and we will ultimately work once we have the right to start having conversations about optimizing the network, to figure out what blend of products and services in which markets are going to generate the biggest customer loyalty for both of our airlines. And I think a blend of them is actually going to be more successful than either one of them would be by themselves.
You aim to return Virgin Atlantic to profitability in 2015. Will that be oriented mainly on cost savings or finding new revenues? What's the balance?
Well, it's actually much more balanced than you might think. We do expect some revenue improvement, and it's really not that much related to Delta in this first year. This year's improvement comes really from three things: The first is some revenue improvements. A little bit of that is because the Olympics are not happening this year. The Olympics were absolutely great for London, and we obviously had a lot of very full airplanes for the summer to the U.K., but the truth is we have very full airplanes every summer to the U.K. So the Olympics couldn't add enough in leisure to offset the fact that business customers didn't travel. Either direction. Business travel dried up significantly.
Second is, we're anticipating a little bit of economic recovery in the U.K. We weren't anticipating a lot, but relative to a very stable capacity environment a teeny bit of uptick. And the third is we'll see a little bit of impact from some connecting itineraries. We added Mumbai, for example, last year. And we're carrying a fair amount of traffic from the U.S. and India now, and that's kind of a new traffic flow for us. To answer your question, costs are seriously the biggest part of it, and that's because of flying a more efficient fleet.
How do you think about your current network of roughly three dozen destinations? Is it big enough?
It's one of the big questions for the long-term strategy of the company: Where do we take the network and the partnership strategy over time? I think it's really critical for us to serve the key business markets from the U.K. I think our network is small, but it's not small for a U.K.-based business, and I think that's why we've had the success we've had at Heathrow over the years. I do think, though, as business centers of the world have evolved, connectivity to other places we currently don't serve becomes more and more important.
How often do you get asked, perhaps jokingly or not: You're an American, you worked at American Airlines, and now you're running Richard Branson's baby. Can I trust you?
[Laughs] They never ever ask me that last part directly. I guess what I would say is, I can describe the mission of the company over the next couple of years very clearly: Turn the financial ship around while maintaining every bit of who Virgin Atlantic is from a culture, service, and style sense. And that's the mission I took on. That's the mission I think about every day, and that's actually the reason I joined this company.
I was just so struck by the fact that I was going to work for a company that could portray its employees as superheroes and be confident that the employees could back it up. And I totally recognize that that's the magic of this company—the style and the people. And so I absolutely know that we have to maintain who we are. That is the advantage that we have that allows us to be a little bit smaller and still be successful. I get that every day. Obviously, I get questions of "Well, with Delta and with you"—the same question you just asked: Are we somehow going to become Americanized? And the answer is clearly no. If that is the outcome, then we will ultimately fail.
Virgin's former chief commercial officer, Julie Southern, was in the running for the CEO spot and left the airline this month. Why don't we see women running big airlines?
I have no idea. I can't answer your question.
How often do you fly in coach?
Well, so far I've flown eight segments, and I've flown two in economy. I've been trying to make sure I sample all the aspects of the product. [Laughs] I have not been asked that.
Before it's here, it's on the Bloomberg Terminal.
LEARN MORE