Duke's MBA Games: Dance-Offs, Races, and Tug-of-War
by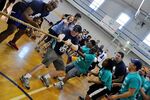 MBA students physically competing with each other is a B-school tradition for the ages. At Dartmouth's Tuck School of Business, they race on skis while wearing banana suits. In Canada, they play dodgeball (PDF). And at Duke University's Fuqua School of Business, they hold the MBA Games—a weekend of dance-offs, tug-of-war competitions and races that require students to wear formal business attire.
This year, Fuqua's games drew MBA candidates from Carnegie Mellon's Tepper School of Business, Vanderbilt's Owen Graduate School of Management, the Columbia Business School, the University of Virginia's Darden School of Business, and Babson College, among others. Competing teams raised money to benefit the Special Olympics of North Carolina, with this year's event bringing in about $71,000.
In the 25 years Fuqua has held the games, the school reports that it has raised more than $2.2 million. Students from Syracuse University's Whitman School of Management won this year's competition, which took place on April 13, while those from Rice's Jones Graduate School of Business raised the most money.
Join the discussion on the Bloomberg Businessweek Business School Forum, visit us on Facebook, and follow @BWbschools on Twitter.
Before it's here, it's on the Bloomberg Terminal.
LEARN MORE