Columbia Business Students Get an Online Place of Their Own
Francesca Di Meglio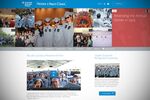 Aziza Jamgerchinova wrote about her admiration for CNN President Jeff Zucker in her Columbia Business School application. After she arrived at the school, as part of the Executive in Residence program, she was able to break bread with Zucker, all the while discussing the future of TV news and her career aspirations. And she wanted to spread the word about her encounter with her role model to her classmates.
Rather than post to Facebook, where some of her closest friends and others might see it, she turned to Notes to the Next Class, a website launched by the school in March that allows students and alumni to post messages, videos, and photos for all the world to see.
While only members of the Columbia B-school community can post messages, the general public can view the site, unlike other business school sites of the same vein. Many of them, which CBS researched, were behind log-in screens, says Tori Fullard, a CBS spokesperson.
The benefit, especially around this time of year, when people start gearing up to apply to business school, is that prospective students can see what students and alumni have been doing, says Jamgerchinova, who graduated last week and is pursuing a role in news media in New York.
"Anyone who is thinking, 'Should I apply? Should I enroll?' can check out Notes to the Next Class and get a glimpse into what is going on," she adds. "What's great about the website is that it's from one student to another."
Michael Oliver Weinberg, a 1998 graduate of the full-time MBA program, posted a message about his involvement with the school, from earning his degree to becoming an adjunct associate professor at the school. He views the site as a chance to clue in alumni about how to stay connected to the community. Also, he plans to promote the elective he'll be teaching in the fall on institutional investing for wealthy families.
"Students can understand that even though they've completed their degree, their relationship with the school is not over," says Weinberg.
Others are using the space to post videos, such as one in which a student taped one second of video every day for the final 130 days of the MBA program, and photos of their spring break adventures and experiences studying abroad.
"Right now our goal is to continue to encourage content," says Fullard. "We would love to see the number of contributions rise."
Join the discussion on the Bloomberg Businessweek Business School Forum, visit us on Facebook, and follow @BWbschools on Twitter.
Before it's here, it's on the Bloomberg Terminal.
LEARN MORE