When It Comes to Silicon Valley, Darrell Issa's in a Giving Mood
By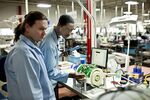 IRS-gate and the other scandals that have consumed Washington over the past week have been good news for advocates of immigration reform. The Senate Judiciary Committee quietly struck a series of key compromises and by Tuesday approved a bill that, if passed by the full Senate, would be a big gift to Silicon Valley. The legislation raises the current annual cap on H-1B visas for highly skilled workers from 65,000 to 115,000. It also scraps an earlier provision that would have made companies try harder to find American workers before recruiting foreigners—a provision the tech industry lobbied hard to undo.
Flesh-pressers for Silicon Valley have been working House offices just as hard. And it's paying off. Today two Republican congressmen, Darrell Issa of California and Bob Goodlatte of Virginia, proposed a bill (PDF) that would lift the annual H-1B cap by tens of thousands further visas: to 155,000. Though a deal is still a way off, it's not impossible to imagine that the House and Senate will ultimately come to some compromise between one big giveaway to Silicon Valley and an even bigger one.
Some recent research backs up the tech industry's longstanding claim that there aren't enough qualified American workers to fill job vacancies. A study published this month by Neil Ruiz and Jonathan Rothwell of the left-leaning Brookings Institution used U.S. Census data and hard-to-obtain U.S. Labor Department records to show that companies with H-1B jobs post their openings longer than other companies that hire U.S. workers with bachelor's degrees. Labor economists assume that if it takes a long time to fill a position, it's because fewer people are jockeying for it. The study also found that H-1B workers were paid more than U.S. workers with bachelor's degrees—$76,356 vs. $67,301, respectively, in 2010. This data undercut the argument of immigration reform opponents that companies want foreign labor because it's cheaper.
To others, the tech talent shortage is a myth. In an April report published by the left-leaning Economic Policy Institute, a group of economists from Rutgers University, Georgetown University, and American University point out that salaries for programmers have been flat for a decade. If there were really a shortage of qualified American workers, the authors argue, employers would have raised wages. The study also found that American science and engineering graduates have a hard time finding work in their fields; many go into some other area. It's not entirely clear if this is because companies are passing up these U.S. workers in favor of immigrants or because the U.S. grads are seeking higher-paying jobs elsewhere—a consequence of wages being artificially depressed in their fields.
The worker shortage question might not be settled for academics, but it certainly is for an increasing number of lawmakers on Capitol Hill.
Before it's here, it's on the Bloomberg Terminal.
LEARN MORE