'Life-Size' X-Wing Starfighter, World's Biggest Lego Model, Lands in New York
Lego, Disney Keep Using the Force for Profits
by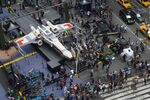 Star Wars saved Lego. Star Wars almost killed Lego. Both statements are equally true, and the Danish toymaker provided a perfect moment to contemplate this paradox earlier today in a muggy Times Square, when it unveiled the world's largest ever Lego model: a 5.3 million-brick, "life-size" X-Wing Starfighter.
The Star Wars-themed, 46,000-pound spacecraft (on display through May 25) took 32 people more than 17,000 combined hours to snap together, and arrived in 34 sections by container ship from Kladno, Czech Republic. It has a 2 million-brick lead on the former biggest Lego record-holder, a 3 million-brick robot in the Mall of America in Bloomington, Minn. "It has a steel infrastructure that's built to the seismic code for Carlsbad, for Legoland California," says master builder Erik Varszegi, a designer on the X-Wing "build," as enthusiasts say. "It's really the same design as the retail set, but at 42 times the scale." Like the gargantuan inflatable characters that loom above the Macy's Thanksgiving Day Parade, the X-Wing seemed, initially, an alien presence at Broadway and 46th Street in New York—and yet, within seconds, completely self-evident.
A publicity stunt in and of itself, the X-Wing unveiling also promotes a series of other projects: The Yoda Chronicles, a new miniseries on the Cartoon Network; Disney (DIS) (now Star Wars' owner) starting production on Rebels, a new animated Star Wars series; and, of course, the 2015 movie from J.J. Abrams. Less formally, the X-Wing symbolizes an obscenely profitable partnership, now in its 14th year, that has sold more than 200 million building sets, 30 million copies of four video games (according to NPD Group), and 450 different Lego Star Wars mini-figures. Lego Star Wars has been a major contributor to a five-year run during which Lego has averaged 24 percent year-on-year growth in sales and 40 percent growth in profits.


Yet the success of Lego Star Wars, beginning in 1999, "really almost killed the company," says David Robertson, a professor at the University of Pennsylvania's Wharton School and author of a new book-length case study, Brick by Brick: How Lego Rewrote the Rules of Innovation and Conquered the Global Toy Industry. "It's a fixed-cost business, and after the success of the initial Lego Star Wars lines, they shipped—and retailers stocked—similar volumes the next year. But in 1999, and again in 2002, they had the prequel movies to drive sales. In years without a new movie, sales went off a cliff, and retailers ended up having to discount a lot just to clear the shelves."
Lego Star Wars' strong sales numbers at the start also masked the company's deeper financial problems in the early Aughts, so much so that it came as a shock to company's directors that the Lego Group was nearing bankruptcy in 2003. Most crucially of all, Lego's management drew the wrong lessons from Lego Star Wars, its first intellectual-property deal—principally, that all future growth would come through brand extensions and innovation. The company undertook big, expensive moves into theme parks and video games, almost all of which required significant investments and which it tried to do in-house.
"They were just innovating like mad, trying everything, and a lot things they frankly weren't good at," says Robertson, whose book, due out in June, chronicles how Lego lost its way embracing all the vogue business precepts of the late Nineties—"be customer driven," "practice disruptive innovation," "head for blue-ocean markets."
Fortunately, in Star Wars, Lego also had a product line that reconnected Lego with its core customers—not just 7-year-old boys, but also (mostly male) adults who remain 7 at heart (aka AFOLs: adult fans of Lego).
"We have 250,000 known AFOLs in the global community," says Michael McNally, brand director for Lego in North America. "Of that total, we estimate about 60 percent of them would identify Star Wars as their biggest Lego passion, or who would say that Lego Star Wars reignited their passion for Lego building in general."
Many AFOLs tell a familiar story of "drifting" from Lego as teens and twentysomethings but coming back to Lego out of nostalgia, or because of Mindstorms, Lego's programmable robot kits. "Although the growing AFOL community accounted for only 5 percent of the company's total market by the early 2000s, the average adult fan outspent the average family with kids by a margin of roughly 20 to 1," Robertson reports. "These black-belt Lego hobbyists also were a potent marketing machine for Lego," he adds. "It was not unusual for four or five AFOLs to show up at a Lego fan event and build a jaw-dropping creation, such as a 9-foot-tall replica of Chicago's Sears Tower, which would draw 20,000 kids and their parents, as well as local media."
Right as Lego escaped disintegration, in August 2005, a veteran manager convinced the founder's grandson and owner, Kjeld Kirk Kristiansen, and Jørgen Vig Knudstorp, who'd recently been appointed chief executive officer, to attend an AFOL jamboree in Washington, D.C. The show, called BrickFair, drew longtime fans who had built Star Wars vehicles and scenes out of Legos well before the themed kits existed and, eight years before Flickr, hosted online forums to share photos of their creations. Over nearly three hours one day at BrickFair, Robertson says, the AFOLs "really let [the owner and CEO] have it. They said, 'We're more passionate about this brand—we care more about it—than you do.'" They said Lego's biggest mistake had been to move away from the system of bricks and other elements that all fit together, and to make the sets easier to assemble. This had undermined the sense of accomplishment kids felt after finishing a build.
It'd be overstating things a bit to say this one meeting was the crux of Lego's turnaround, but Knudstorp still refers to it in interviews. Themes—stories on television and in movies—might be essential to selling Legos to the successive generation of kids, but the underlying Lego system had to be consistent, challenging, and universal. The last thing any kid or parent wants is a bin of Legos in the back of a closet that's incompatible with other Legos. "The new series like Yoda Chronicles has been helpful attracting new fans in years without a movie," says X-Wing designer Varszegi. "But just as important has been keeping the original Star Wars sets in rotation. The classics. From the first three movies."
To borrow a phrase: You never really own a Millennium Falcon, you just take care of it for the next generation.
Before it's here, it's on the Bloomberg Terminal.
LEARN MORE