GWU Launches Undergraduate Finance Program
Francesca Di Meglio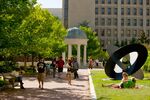 Seventeen sophomores at George Washington University are set to begin a new B.S. in finance program in the fall that requires participants to take on a second major outside the business school.
Some of the students in the new program are tackling economics, math, or computer science. Administrators hope that others in polar-opposite fields will show interest in the program. "I would love to have students in completely different disciplines, such as history," says Isabelle Bajeux-Besnainou, associate dean for undergraduate programs at GWU's School of Business.
Administrators who came up with this concept say they hope students will think more broadly about the world around them, while still narrowing in on the necessary business skills. "GW undergraduates will now be able to go deeper into the field of finance, while broadening their educational opportunities in other disciplines, and making connections between finance, liberal arts, math, and science," writes Dean Doug Guthrie in an e-mail.
To apply to the program, rising sophomores must fill out an online application and write an essay. They must apply to and get accepted by their second major separately. Incoming freshmen will learn about the possibility of applying to the program at Colonial Inauguration, the university's orientation, which begins in June. But they'll have to wait until they are rising sophomores to apply.
All accepted students are required to read Investing: The Last Liberal Art (Columbia University Press, January 2013), Robert G. Hagstrom's book arguing for incorporating subjects as diverse as physics and philosophy into the study of investing. "It will help them make the connections between finance and their other majors," Bajeux-Besnainou adds.
Part of the university's new strategic plan for more interdisciplinary education, this degree in finance is a starting point, says Bajeux-Besnainou. The school is working on designing curriculum for similar degree programs in marketing and international business.
Since the Board of Trustees has already approved the umbrella proposal for these kinds of degrees, to move forward the curricula will have to be approved only by the business school faculty. Bajeux-Besnainou says this could happen for the other areas of study in the next academic year.
Join the discussion on the Bloomberg Businessweek Business School Forum, visit us on Facebook, and follow @BWbschools on Twitter.