B-School Commencement 2013: NBC's Andrea Mitchell
By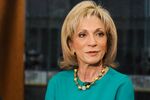 Andrea Mitchell, chief foreign affairs correspondent for NBC News, delivered the commencement address to MBA graduates at the University of Pennsylvania's Wharton School on May 16.
Mitchell took a moment to recognize "the nearly 380 of you, the 45 percenters of this amazing class, who are women."
"Back in 1968, seven women graduated from the Wharton MBA program, and in '69, there were five women graduates," she said.
Women made up 42 percent of the entering class of 2012 in Wharton's full-time MBA program, according to Bloomberg Businessweek data, which is the highest of any U.S. program ranked among the top 10. Harvard Business School follows at 40 percent, with Stanford's Graduate School of Business and the University of Chicago's Booth School of Business next at 35 percent.
Mitchell went on to give an example of why she felt that class composition—and preparing minorities for leadership roles—are important: "If you tell yourself, in fact, that diversity and gender equity don't matter, I ask all of you, ask yourselves, whether the Pentagon would still be ignoring sexual assaults in the military if a rising number of women senators hadn't started raising holy hell?"
Senator Kirsten Gillibrand (D-N.Y.) introduced a bill the same day as Mitchell's speech that would cause U.S. military commanders to lose authority over sexual-assault cases and other major crimes. The bill came in response to reports of sexual assaults and harassment in the armed services, including two cases involving service members who led programs that are supposed to prevent and respond to such attacks.
Join the discussion on the Bloomberg Businessweek Business School Forum, visit us on Facebook, and follow @BWbschools on Twitter.