Why Lowe's Is Losing the Housing Recovery to Home Depot
by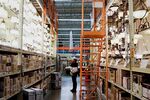 Home Depot still has a blueprint for beating Lowe's. That was abundantly evident in the companies' diverging earnings reports this week.
Home Depot reported better-than-expected results as profit surged 18 percent over the year-earlier period, allowing the retailer to issue rosy statements about the housing recovery. Lowe's, meanwhile, posted a disappointingly small 2.5 percent profit gain and groused about how a colder-than-usual spring dampened returns for such things as hoses and gardening gloves.
The scripts and the underlying statistics were startlingly different, considering both retailers were dealing with the same forces: relatively crummy weather and a major improvement in the number of people buying and building houses.
Here's a look at how Home Depot came out so far ahead:
Going Pro
Much is made about what Home Depot and Lowe's retailers have done for do-it-yourself consumers, but when it comes to a real-estate recovery, contractors and developers are what really move the needle. Last quarter was the first time since the 2008 recession that sales to tradesmen outpaced business from ordinary homeowners, and Home Depot was ready. It had loaded up on such products as plywood and fast-drying paint, set up dedicated checkout lines and loading services for contractors, and sent employees to make sales calls at building sites. Home Depot also appealed to banks and private-equity firms with a turnkey program to spiff up properties in foreclosure. The result: Home Depot saw 35 percent of its revenue come from professionals, compared with 25 percent at Lowe's, according to JPMorgan.
Playing the Recovery
Home Depot was also better positioned in Sunbelt states, specifically California. Those areas are less sensitive to cold spring weather and include some of the country's fastest-recovering housing markets. Home Depot gets about 10 percent of its revenue from California, compared with 6 percent at Lowe's, according to Goldman Sachs. Itis also in better shape to cash in on Hurricane Sandy repairs in Connecticut, New York, and New Jersey.
Levering Online Orders
The recent period marked the first time Home Depot customers could route any online order to the nearest store. Customers chose this option in almost one-quarter of online sales, and one in five of those folks bought more items when they swung by to collect their wares. Although Lowe's is rapidly trying to speed up its shipments and streamline mobile shopping, it is still playing catch-up online.
Running Lean
Home Depot executives quite simply run a leaner operation. Last year the retailer turned over its inventory in less than 80 days, compared with 93 at Lowe's, according to Bloomberg data. That kind of execution is one of the reasons the company had a slightly better operating margin and a much better return on assets last quarter. Lowe's, meanwhile, was counting on spring. Although it tried to sync its supply chain to the weather, the retailer said it stocked up early this year on expensive warm-weather inventory such as lawnmowers and grills—a decision that no doubt weighed on its balance sheet.
As the home-improvement retailers' fortunes split, the housing sector shows no signs of slowing. Luxury homebuilder Toll Brothers said today it booked more orders in the recent quarter than it has in seven years, thanks to record low interest rates. Buyers were asking for more lavish properties, as well, with the average Toll Brothers sale climbing by 3.6 percent.
Before it's here, it's on the Bloomberg Terminal.
LEARN MORE