The New Role of the CIO
Ernest von Simson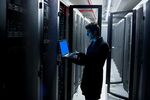 "All the world's a stage; and all the men and women merely players," wrote Shakespeare, implying that people are driven largely by the turns and whirls of the time and place in which they live.
That's true of chief information officers. Their role is often defined by the dominant technology and business strategy of the day as much as by their own drive and talent. Back in what must seem like Shakespeare's time to the Twitter generation, the mystique of mainframes once gave IT executives unrestricted charters to automate back office functions to reduce headcounts. Building homegrown software required many tightly supervised programmers. Most CIOs had technical backgrounds, and many were recruited from outside the company, often with little knowledge of the business.
The IT sector's expansion from mainframes to distributed servers moved CIOs beyond their chilled computer-room fortress to the user's domain. To get anything done required, first, persuading their line counterparts. Since most software was delivered by on-premise packages, CIOs required less knowledge about software development and more about installation. Outsourcing became a major theme that further reduced the technical requirements. By 1998, a good percentage of CIOs came from line functions outside IT, and even more from outside the company (with some overlap). A long tenure inside the IT department was the least likely springboard for a CIO career. That's about when the job title came to stand for something else: "Career Is Over."
Today, the IT sector is driven by cloud-delivered services, including both software and data. Its form is dominated by technology's "consumerization," even as business services are delivered to enterprises. What is management's model for customer interfaces? Not the company's top competitor, but Amazon. Who's the user? Not employee but customer. The CIO disconnected from marketing soon becomes irrelevant except as a boiler tender below decks. As an increasing share of new IT expenditures go to such services as Salesforce.com, the CIO's job is akin to a circus ringmaster balancing business needs against an incoming stream of opportunities—and risks—delivered directly to line departments. Software design and installation are replaced by service analysis for data security, systems availability, and responsiveness.
The successful CIO's profile has changed profoundly. Knowledge of either technology or the business is insufficient. Today's technology leader must bridge the divide between marketing reach with mobile applications or between market analysis with big data sources and platforms. In sum, the successful CIO needs an intimate idea of how current technology can increase the company's sales and not just reduce costs or improve clerical productivity.
Before it's here, it's on the Bloomberg Terminal.
LEARN MORE