NFL Running Back Warrick Dunn Joins the Ranks of MBAs
Francesca Di Meglio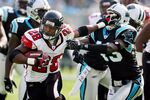 Former Atlanta Falcons running back Warrick Dunn is one of 27 players in National Football League history to have rushed for 10,000 yards in their career. As of May 13, he can add another achievement: graduating from the executive MBA program at Emory University's Goizueta Business School.
Going to business school was a way to gain credibility and confidence, Dunn says.
"I was sitting in a boardroom as a limited partner with the Falcons, and lots of lingo was flying over my head," he says. "I wanted the people sitting around me to respect me, not just as an athlete but as a businessperson."
Business school was the obvious choice but not an easy one, he says. He put a lot of effort into writing the essays, preparing for the interviews, and explaining his nonprofit work. Dunn applied only to Goizueta and said he had no backup plan if he had been rejected.
Known for overcoming personal challenges—including the loss of his mother, Betty Smothers, an off-duty police officer who was shot and killed at a security job when Dunn, the eldest of six children, was 18—he says business school was a challenge of a different sort: an intellectual one.
Once he began the program, Dunn says, he was intent on keeping up with all the readings and assignments. The program, which attracts doctors, lawyers, and those with heavy travel schedules, requires one week of in-person participation every quarter and distance learning for the remainder.
Having completed the program in 21 months, Dunn says it took a little while to feel comfortable with the material. Classmates, who had more experience in business, were helpful, he adds, and he appreciates having them in his network.
While one might think that other students would be mesmerized by Dunn's prowess on the field, he was just one of them at school, says Jonathan Darsey, associate dean of EMBA Programs at Goizueta.
"It's amazing how no matter who they are in the outside world, they are all students inside the classroom," Darsey adds. "They all blend together, bond, and learn together."
Now that his career as a football player—including stints with the Florida State Seminoles, Tampa Bay Buccaneers, and Falcons—is behind him, Dunn is focusing on his work with the Falcons and Warrick Dunn Charities, which provides aid for economically disadvantaged single parents. He hopes his MBA will aid him in achieving other dreams.
"I want to be a businessman," Dunn says. "To be in a world with a guy who has built a billion-dollar company and to be able to talk his language is priceless to me."
Join the discussion on the Bloomberg Businessweek Business School Forum, visit us on Facebook, and follow @BWbschools on Twitter.