In the NBA Draft Lottery, Little Help for the League's Losers
Never mind competitive balance. The lottery keeps fans interested.
By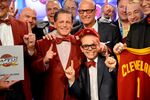 Nick Gilbert, the 16-year-old son of boisterous Cleveland Cavaliers owner Dan Gilbert, stole the show at last night's NBA draft lottery in New York. Decked in red bow tie and thick-rimmed glasses, Nick sat at the podium as the official Cavs representative and delivered the highlight of the night when he calmly told the emcee, "Well, where I'm at now is the lottery." To top it off, Cleveland pulled a mild upset to win the first pick of the 2013 draft, confirming Nick's status as the franchise's good luck charm. The event, televised in prime time on ESPN, is one of a kind in U.S. sport. The NHL introduced a trimmed down version of a lottery in 1995, but no other league has managed to turn a labor-rights procedure that does not actually involve any players into such successful show business.