For a Bigger Chinese Box Office, Hollywood Hires Chinese Actors
by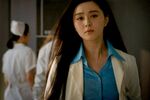 Do you want to be cast in the next Transformers movie? All you have to do is win a reality show—in China. Paramount Pictures, in an effort to sell more tickets in China, will be casting more Chinese actors. They're doing it through the plainly titled Transformers 4 Chinese Actor Talent Search Reality Show. According to the Hollywood Reporter, the show will air in June. Four winners, two with acting experience and two without, will score roles in director Michael Bay's movie.
The reality show is a unique twist on a practice that's actually been going on for a while: Chinese-ifying American blockbusters. Last year, China surpassed Japan as the second-largest cinema audience in the world, with ticket sales of $2.7 billion. But its censor-happy government only allows 34 foreign films to screen in the country each year. Producers hope that if they can just break into the market, they'll be able to make a fortune. And so, Hollywood's wooing of China has begun.
Marvel Studios recently released Iron Man 3, partly financed by China's DMG Entertainment, which featured a cameo by Chinese actress and pop singer Fan Bingbing. The Chinese version of the film also featured a product placement for a Mongolian milk drink called Gu Li Duo, and the film's villain, called the Mandarin, was, for obvious reasons, given a new identity. New name: Man Daren. (Very tricky, Marvel.) The movie was a hit, breaking opening-day box-office records in China, although according to AP reports, moviegoers were put off by the blatant pandering.
Transformers's approach is just as blatant, but it'll probably be more popular. More than 80,000 people are expected to compete in Transformers 4 Chinese Actor Talent Search Reality Show for movie roles described by Entertainment Weekly as "sexy lady," "Lolita-type," "computer geek," and "Kung-Fu fighter."
In addition to the reality show, Bay has also cast the actress Li Bingbing in the film and plans to shoot certain scenes in China, too. All this brown-nosing seems likely to pay off; Bay's last Transformers movie, Dark of the Moon, pulled in $165 million in China to become the country's fourth-biggest box-office hit. (No. 1? Avatar.)
Before it's here, it's on the Bloomberg Terminal.
LEARN MORE