Farmers Rush to Plant Ahead of Storms, Tweeting All the While
by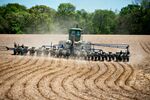 Farmers planted at a breakneck pace last weekend to get seeds in the ground ahead of the storm system that brought severe weather and tornadoes on Sunday and Monday. Farmers planted a record 48.1 million acres of corn last week; by Monday, 71 percent of that crop was planted, according to a USDA report, up from just 28 percent the previous week.
Through the rush, farmers reported their progress via Twitter and Instagram, using hashtags like #plant13 or #fromthefield. Poems were posted. Packages of Girl Scout cookies eaten were documented, along with tractor accidents and many photos of farm equipment. One farmer planted for 19 hours straight. Here, a handful of the tweets that captured this year's planting:
Before it's here, it's on the Bloomberg Terminal.
LEARN MORE