Entrepeneurial Spirits Are Soaring. Why Aren't There More New Businesses?
by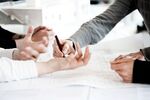 Americans' entrepreneurial spirits are at their strongest in nearly 15 years, at least in terms of the percentage of Americans operating new businesses in 2012, according to research released today by Babson College.
But hold on. The Kauffman Foundation reported last month that Americans started new businesses at a slower rate in 2012 than in the year before, as an improving economy gave would-be entrepreneurs less incentive to launch new enterprises because they were finding jobs. During the Great Recession, Kauffman's Index of Entrepreneurial Activity rose to record highs.
Which one is it? Donna Kelley, one of the authors of the Babson study, says she doesn't know the Kauffman research well enough to guess what the divergence between the two studies might mean, but she did surmise that the difference in their respective methodologies could hold the answer.
Kauffman mined data from the Census Bureau and Bureau of Labor Statistics on the number of new businesses started in 2012, finding that 0.3 percent of the adult population started a business each month last year, down from an average of 0.32 percent in 2011.
For Babson's annual Global Entrepreneurship Monitor, researchers conducted telephone surveys with a representative sample of 5,500 American adults during the summer of 2012. Thirteen percent of respondents were either running a business less than three-and-a-half years old or were on the verge of starting a new company—the highest percentage since Babson started tracking rates of entrepreneurship in 1999. (To be considered a nascent entrepreneur by Babson, soon-to-be business owners had to have taken material steps toward starting a company, such as signing a lease on office space or paying employees.)
The differing trends suggested by the two surveys may be as simple as the way they define entrepreneurs: Kauffman tracked new business starts, while Babson included businesses that have been around for a few years, and those that haven't quite started yet.
Regardless of how many businesses are actually being launched, Americans' confidence in their abilities to make their own way is running high. Forty-three percent of respondents believed there are good opportunities for entrepreneurs, also the highest number since Babson started tracking entrepreneurship rates in 1999. Fifty-six percent of respondents said they have the capability to start a new business, and of those who aren't currently entrepreneurs, 12.5 percent intend to launch a company in the next three years.
Before it's here, it's on the Bloomberg Terminal.
LEARN MORE