Back Into Cheap Debt, and Oh How We Missed You
by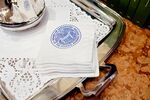 After the meltdown five years ago, it was generally understood that indulging in debt was a bad thing. All the companies, banks, and households that had overextended themselves during the credit bubble would need a long time to fix their balance sheets, with the Great Deleveraging jolting the financial system for years.
So much for that theory. Investors and issuers can't get enough leverage these days. Thank the Federal Reserve. Corporate bond yields still look meaty compared with rates offered by U.S. government debt. With the Fed still at emergency low-rate policy and investors starved for yield, companies of varying creditworthiness cannot help but cater to the need. It's a matter of "get it while the going's so easy," and while companies continue to show they can service their debt.
"There is nothing inherently good or bad about leverage," says Michael Lewitt, publisher of the Credit Strategist. "Cheap leverage is better than expensive leverage. Too much leverage is always bad. The difference is that now companies can disguise excessive leverage because it costs them much less to service it and it is easy to refinance or extend."
Bloomberg's Alexis Xydias reported that the most indebted firms are rallying more than the rest of the stock market than at any time in almost four years. Companies with the lowest working capital, smallest earnings, and highest debt ratios gained 27 percent this year, which was almost twice the gains for those with the most cash and least borrowing. Indebted companies beat those with stronger finances by nine percentage points in the first quarter of the year.
The junk-bond market remains on fire; yields are at 5.3 percent now, compared with 8.2 percent in June, according to Barclays indexes. Bloomberg data show that speculative-grade borrowers have issued $158.3 billion in debt this year, compared with $130.5 billion by this time last year. That enthusiasm has spilled over into interest in leveraged loan funds. In the first four months of the year, the $22.4 billion in inflows has already bested full-year inflows for every year going back a decade, according to Lipper.
Writ large, U.S. corporate bonds are being offered at their busiest pace on record. The $689.6 billion issued this year has well exceeded the $593.2 billion sold by this time last year. "We're not buying corporate bonds of any kind now," investor Warren Buffett remarked on Bloomberg TV earlier in the month. "Not at those yields."
Lewitt is similarly disinclined to join the leverage love fest. "When the price of this leverage normalizes," he predicts, "nobody is going to be saying anything positive about it. The smart ones are those who are repaying their debt now, not adding to it."
Before it's here, it's on the Bloomberg Terminal.
LEARN MORE