Wharton Grads Start a Feeding Frenzy on 'Shark Tank'
Francesca Di Meglio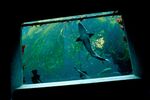 Not many entrepreneurs would reject an investment from Mark Cuban, but Ryan Frankel and Kunal Sarda, graduates of the University of Pennsylvania's Wharton School, did—and on national television.
The pair, featured on ABC's Shark Tank, got three of the show's famous investors to fight it out for a piece of their translation business, VerbalizeIt. When the season finale of the show, which has entrepreneurs pitching their business ideas to a panel of investors, aired Friday night, Mark Cuban, Kevin O'Leary, and Robert Herjavec were acting like real sharks out for blood.
Cuban and Herjavec were willing to pay $250,000 for 25 percent of the business, while O'Leary offered $250,000 for 20 percent. Ultimately, Frankel, who graduated in 2012, and Sarda, who graduated in 2011, accepted O'Leary's offer. The investors thought money was the deciding factor, but the entrepreneurs disagreed.
"It wasn't about the 5 percent," says Sarda, who is the company's chief operating offficer. "[O'Leary] really understands what our business is about."
VerbalizeIt users register on the company's website or download a free app to get in touch with live translators within seconds. They pay $9.99 for five minutes, $44.99 for 30 minutes, and $99.99 for 100 minutes of translation, according to the company's website.
Since Frankel and Sarda taped the show last summer, the business has evolved. In addition to offering translation services for your average traveler, 18-month-old VerbalizeIt offers translation services for businesses, says Chief Executive Officer Frankel.
When the founders taped Shark Tank, the business was in its first month. It had garnered $10,000 in sales in two weeks, as well as a partnership with Skype. Since then, the company has teamed up with Rosetta Stone, the language instruction company, and Inspirato, a private club for luxury travelers operated by American Express.
The mobile translation app is now part of a full-service translation platform that delivers interpretation, document translation, and audio and video translation, says Frankel, who declines to provide sales figures. With 15 employees and 5,600 translators, the company offers 10 languages for translation, including English, Spanish, Mandarin Chinese, Portuguese, and French.
Part of the Wharton Venture Initiation Program, an educational incubator that assists Wharton students launching businesses, the idea for VerbalizeIt came to Frankel when he became violently ill on a trip to China and found no way to communicate his troubles to the natives.
VerbalizeIt's founders completed TechStars, which is a business accelerator program that puts entrepreneurs in front of hundreds of investors after a 13-week training period. Those investors, says Frankel, were better suited to the business than O'Leary was, especially now that the company has grown.  So they have not moved forward with O'Leary's offer, despite what viewers saw on the show. Still, Frankel says the deal isn't completely off the table.
"We still keep in touch with Kevin," he says. "We may be open to collaborate in the future."
Their appearance on the show exceeded expectations, says Frankel. Since it aired, the company has received more customer sign-ups and further media exposure, he adds. And they'll always have the memory of everyone's reaction to their unexpected decision to go with O'Leary.
Most people don't turn down Cuban for O'Leary," says Frankel. "There was a large gasp."
Join the discussion on the Bloomberg Businessweek Business School Forum, visit us on Facebook, and follow @BWbschools on Twitter.