The NFL Says Goodbye to the Polaroid, Hello to Microsoft's Surface Tablet
By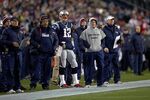 Soon, NFL players will have a better way to see what happened on the last play than tilting their heads back to check out the scoreboard.
The National Football League today announced a partnership with Microsoft, through which coaches and officials will use Microsoft's Surface tablets on the sidelines, potentially replacing coaches' laminated playbooks and Polaroid images used by quarterbacks to figure out what went wrong on that last interception. The partnership also includes plans to use the Surface and next-generation Xbox game console for interactive viewing experiences for fans.
Giving coaches and officials access to tablet computers seems like an obvious step for the league, which, after all, exists in the 21st century. But the NFL has a Luddite streak. Over the last several seasons, many teams have begun using iPads as playbooks during practice, but they had to leave the devices behind on game day. According to league rules, any device that can record or play video cannot be used during pregame preparations or the game itself, nor can "any type of computer." Coaches and players are allowed to view photographs, but binoculars are banned from the sidelines.
Technophobia is not unique to football. Professional soccer and baseball have lagged even further behind on instant replay.
In part, the NFL says its resistance to new technology is meant to ensure competitive balance, so that teams with better IT departments don't gain an unfair advantage. But the league has been deliberate in moving forward because it recognized that a contract to bring digital technology to its sidelines would be a lucrative business opportunity. The NFL said the deal with Microsoft was 18 months in the making. It's worth $400 million over five years, according to a person with direct knowledge of the partnership who was not authorized to speak on the record.
As NFL technological shifts go, the change ranks up there with radio headsets in quarterbacks' helmets and video instant replay. "We would make sure that it worked, and if that means changing the rules to account for innovation on the sidelines, we would do that," Brian Rolapp, the chief operating officer for the NFL's media arm, says of incorporating the Microsoft products. Rolapp would not give a timeline for when the devices will show up on the sidelines but said the league hoped to have things up and running by this coming season.
No word on when they'll stop measuring first downs by trotting out guys dangling a chain between a couple of sticks.
Before it's here, it's on the Bloomberg Terminal.
LEARN MORE