Raving with Rodin: New York's Culture Parties for the Under-40 Set
by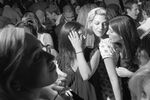 Nearly every major cultural institution in New York has an organization devoted to cultivating future donors. They do this through a series of incentives like free admission to shows, openings and parties, where open bars are meant to open wallets. To oversimplify: liquor out, with hopes of money in later.

Judging by the laughing, occasionally gray-haired partiers at recent "young patrons" events a casual observer might wonder just how young, and just how inclined to patronage one really has to be to attend these things. The answer is: not very young, and not necessarily inclined to patronage at all. Young patrons programs are often much closer to a year-long invitation to an arts-themed open bar than anything else. So maybe those laughing revelers are so happy because they're getting their money's worth. Or maybe they're just wasted.
Take your pick. Organizations like the Metropolitan Opera (their Young Associates tagline: "Y ou buy the tickets, we buy the drinks! "), Carnegie Hall , and the New York City Ballet , organize a year-long series of fun ways for (future) deep-pocketed members to engage with the institution.

And because these organizations are meant to appeal to younger people, they're priced accordingly. One of the cheapest options is the Municipal Arts Society's Urbanists organization ($65 a year), open to anyone in their 20s and 30s. The most expensive young patrons fee belongs to the Metropolitan Museum of Art's Apollo Circle, with annual dues starting at $1,000.

So, let's figure out what you're paying for, and what it actually costs. Our two sample organizations will be the Frick Museum's Young Fellows , and the Guggenheim Museum's Young Collectors Council .

Frick: $500 ($165 of which is tax deductible)

-Free Admission (normally $18) for you and three people, for a year. Let's say you go bring three friends, four times a year, which comes to a total of $216.
-Ticket to the Spring Party, with an open bar and dessert. If you're like many of these smiling people , figure you have one dessert ($10) and four drinks at $8 each. Total: $42.
- Six invitations to openings and receptions . Anyone familiar with this sort of event knows that "reception" is code for standing around an open bar. Figure three drinks at each reception at $8 each, for a total of $144.
There are other invitations to pre-exhibition viewings and talks, but those are harder to monetize, so we'll leave them out.
Total monetary value: $402
Guggenheim: $500 ($122 of which is tax deductible)

-Free Admission (normally $22) for you and a friend for a year, plus an additional three free tickets. Figure you go with a friend four times a year, plus use the three extra tickets as presents, which comes to a total of $242
-There are six receptions for opening exhibitions (three drinks at each of those at $8 apiece), for $144.
-They give out passes to 20 art fairs, including Frieze ($42) and art Basel Miami Beach ($42). Let's assume that you go to just those two, for a total cost of $84.
There are also gallery walks, curator-led tours of exhibits, visits to private collections and other events, but once again, that's fairly difficult to monetize, so we'll consider those "intangibles" and rely on what we can quantify.
Total monetary value: $470
Yes, the math is fuzzy and these numbers come below the membership purchase price. But you could go to the museum more often, drink more and eat more while lining your pockets with petits fours for later (people do). The novelty of drinking with your friends in an almost-deserted museum is hard to overstate: you're reveling near Bellinis, or among the Temple of Dendur, or at the foot of Rodin's Balzac. Beats your home venue of a futon, that wilting ficus and a table on sawhorses.
James Tarmy reports on arts and culture for Bloomberg Muse, the arts and leisure section of Bloomberg News.

Before it's here, it's on the Bloomberg Terminal.
LEARN MORE