MBA Hiring Is About to Go Into Overdrive
Louis Lavelle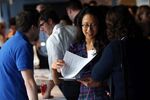 Fewer full-time MBAs received early job offers this year, and far fewer landed finance positions, new research shows. But hope is not lost: A separate study suggests that MBA recruiters are about to go on a hiring binge.
The Graduate Management Admission Council surveyed 5,331 business school graduates in 33 countries in February and March and found that 61 percent of those enrolled in full-time MBA programs had job offers at that time, down from 64 percent last year. Fifty-four percent of graduates seeking jobs in finance and accounting had offers, down from 61 percent the year before. Manufacturing and health care also lost ground, while the energy, technology, and consulting sectors all saw gains.
A separate survey of 935 corporate recruiters in 50 countries was considerably more upbeat. It found that more companies are planning to hire MBAs (75 percent, up from 71 percent in 2012); they're planning to hire more (14.6 on average, up from 11.4 in 2012); and they're planning to pay them more (median salary of $95,000, up from $90,000 in 2012).
The greatest demand for MBAs was in industries not traditionally high on most MBA's must-have list, including energy and health care, but consulting, technology, and even finance are all expected to hire more MBAs than last year. U.S. companies show the greatest demand for MBA talent, with 85 percent of companies surveyed saying they plan to hire MBAs (compared with 61 percent in Asia and 54 percent in Europe). The Northeast is more MBA-crazy than any other region, with 92 percent of companies reporting plans to hire MBAs this year.
Join the discussion on the Bloomberg Businessweek Business School Forum, visit us on Facebook, and follow @BWbschools on Twitter.
Before it's here, it's on the Bloomberg Terminal.
LEARN MORE