Jamie Dimon Wins Big in JPMorgan Shareholder Vote
Jamie Dimon will remain chairman and CEO of JPMorgan, after a year of regulatory scrutiny and record profits.
By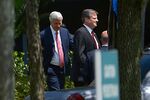 The man who controls the largest bank in the U.S. just got more powerful. Jamie Dimon defeated a proposal today that would have barred him from serving as both chairman and chief executive officer of JPMorgan Chase, after a year that saw record profits—and the most reckless trading loss in the bank's history.