Harvard Gets $125 Million Gift From One of Its Own
By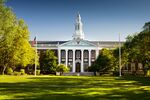 A Harvard Business School alumnus who gave the university its largest gift is making a second $125 million donation to the school to fund a bioengineering institute, Harvard reported today.
Hansjörg Wyss, a Swiss philanthropist who's among the world's wealthiest people, donated $25 million to support doctoral programs at HBS in 2004, and in 2008 he gave $125 million to the university to create the Wyss Institute for Biologically Inspired Engineering. Technology developed at the institute includes a robotic bee that can be used in search-and-rescue missions and a vibrating mattress that senses when an infant is about to stop breathing.
"We wanted to create a place where the innovation and imagination of the world's best minds could work beyond disciplinary boundaries to deliver life-changing medicines and technologies that are inspired by nature," Wyss said in a statement.
Wyss graduated from HBS in 1965 and spent the next decade in various industries, including textiles and airplane sales. He joined Synthes USA in 1977 and built it into the world's largest maker of devices to treat bone fractures and trauma. Wyss stepped down as chief executive officer in 2007, retaining his role as chairman. Johnson & Johnson announced in April 2011 that it was buying Synthes in a cash and stock deal worth $19.7 billion.
Each year, HBS presents the Wyss Awards for Excellence in Doctoral Research in honor of the 2004 gift. A meeting house for HBS doctoral students and an endowment for doctoral education are also named in Wyss's honor.
In 1989, Wyss, whose estimated net worth is $12.4 billion, according to data compiled by Bloomberg, started the Wyss Foundation, which is dedicated to land and environmental conservation in the U.S. He's also chairman of the Beyeler Foundation, which has a private collection of modern art in Switzerland, and co-founder of the AO Foundation, which has become the world's largest medical teaching organization.
Join the discussion on the Bloomberg Businessweek Business School Forum, visit us on Facebook, and follow @BWbschools on Twitter.