G4S CEO Buckles Leaving in Shadow of London Olympics Work
Alex Webb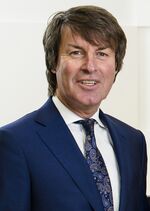 G4S Plc Chief Executive Officer Nick Buckles, who helped create the world's biggest security provider, plans to step down almost a year after the company bungled a contract to guard London's Olympic Games.
Buckles will retire on May 31 and be succeeded by Chief Financial Officer Ashley Almanza, who joined G4S this month after 19 years at U.K. oil producer BG Group Plc, the Crawley, England-based company said in a statement today.
G4S has been working to restore a reputation that Buckles conceded was "in tatters" after the Olympics, when insufficient staffing prompted the U.K. government to assign troops to augment protection of athletes and the public. Growth plans are focused on emerging markets as European profitability gets squeezed by struggling economies. G4S's operating margin shrank in the first quarter, with the company forecasting May 7 that the decline will probably continue through the year.
"After the disappointment of the first-quarter trading update and the subsequent share performance, Nick thought it was time to discuss the future leadership of the company with the chairman," Adam Mynott, a G4S spokesman, said by telephone. "They mutually agreed then that it would probably be in the best interest of the company if there was a new CEO."
G4S fell as much as 1.4 percent to 247.4 pence, the lowest intraday price since May 13, and was trading down 1 percent at 10:32 a.m. in London, reversing a gain of as much as 4.1 percent earlier in the day. The stock slumped 15 percent on May 7 after the company released its forecast. G4S is valued at about 3.5 billion pounds ($5.32 billion).
U.K. Orders
The company, formed from the merger of Securicor Group and Group 4 Falck A/S in 2004, had several contracts with the U.K. government, including deals with the Home Office valued at 600 million pounds, Buckles said in July 2012, when he faced lawmakers' questions over the Olympics security contract. The government stripped G4S of a prison-operating order in November.
The bungling of the Olympics contract resulted in an 88 million-pound charge.
Buckles, whose career at G4S dates back to when he joined Securicor in 1985, also led an aborted attempt in 2011 to buy Danish facility management operator ISS A/S. Shareholders revolted against the proposed takeover that sought to combine security and cleaning services.
'Inevitable' Change
"A change in management was fairly inevitable after the recent profit warning and the two shocks with the Olympics in 2012 and ISS in 2011," Laurent Brunelle, a Paris-based analyst at Exane BNP Paribas with a neutral rating on G4S shares, said by telephone. "After two mistakes, the third is usually fatal. It could be a positive catalyst but it's not going to fundamentally change anything."
Almanza, a chartered accountant by training, was hired as CFO at the start of this month following the retirement of predecessor Trevor Dighton. Almanza's term at Reading, England-based BG Group culminated in a spell as CFO from 2002 to 2011 and executive vice president from 2009 to 2012.
"The board is extremely pleased to have attracted Ashley Almanza," G4S said today. "He brings a wealth of experience from working across international borders in complex businesses and we are confident he will provide strong strategic and operational leadership to the group."
Executive Appointments
G4S also announced the appointment of Eddie Aston, the head of Deutsche Post AG's DHL Global Sectors unit, for the new role of chief operating officer. Stuart Curl, G4S's CFO for its U.K., Ireland and Africa unit, will become acting group financial chief while a replacement for Almanza is sought.
Three of the company's 10-member executive board have left the company since the Olympics.
"They announced there would be changes after the Olympics because they had been too focused on the U.K.," Exane's Brunelle said. "That is all positive."
The company generated about 10 percent of revenue last year from U.K. government contracts, and the Olympics order represented 2 percent of business. Europe was the company's biggest source of revenue, accounting for 39 percent.
G4S plans on 50 percent of revenue to come from emerging markets by 2019 compared with 33 percent last year.
Before it's here, it's on the Bloomberg Terminal.
LEARN MORE