Finding Federal Money to Rebuild Oklahoma Homes and Businesses
by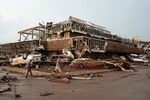 One of the most devastating tornadoes ever blew through Moore, Okla., last night, killing at least 24 people and leaving the city in ruins. President Barack Obama declared Oklahoma a disaster zone and pledged federal aid for areas within the state affected by tornadoes. The immediate focus for government officials is on finding the missing and helping residents come to grips with the extent of the destruction.
As the Oklahoma City suburb begins to rebuild, many residents are likely to rely on grants from the Federal Emergency Management Agency, insurance payouts, and loans from what might seem an unlikely source: the Small Business Administration. Due to a quirk in Congressional history, homeowners and renters can apply for loans from the SBA, regardless of whether they own a business.
The agency makes loans of up to up to $200,000 to rebuild or repair a place of primary residence in federal disaster areas, plus up to $40,000 to help homeowners and renters replace uninsured personal property. About 90 percent of the SBA's disaster home loans carry rates of 1.875 percent, according to SBA spokeswoman Carol Chastang.
In addition, the agency makes physical disaster loans to businesses of all sizes to cover uninsured losses on property—including property, machinery, and inventory—that has been damaged or destroyed. The SBA also makes working capital loans to cover such business costs as rent and equipment that can't be met due to the disaster.
Both programs offer businesses loans of up to $2 million at 4 percent interest rates and terms of up to 30 years. Nonprofits can borrow as much as $2 million to meet working capital needs, at 2.875 percent.
The first step for business owners and homeowners seeking federal assistance is to register with FEMA (call 1-800-621-3362 or visit DisasterAssistance.gov), says Chastang. The president's declaration also covers further tornadoes hitting Oklahoma since May 18. To apply for SBA disaster loans, visit the agency's website, or call its customer service center at 1-800-659-2955.
Before it's here, it's on the Bloomberg Terminal.
LEARN MORE