B-School Dean to MBAs: Job-Hopping Is a Mistake
by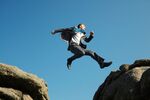 For those who just graduated from business school, landed their first jobs and are already thinking of job-hopping, you may want to reconsider, says University of Virginia Darden School of Business Dean Robert Bruner.
MBAs should stay with their first employer out of business school long enough to make an impact, which may require a commitment of more than four years, Bruner said in his commencement address to the class of 2013 on May 18. He later posted the text to his blog.
In most industries, four years is "barely enough time to learn the nuances of a complicated position, such as leader or general manager," he said.
"There's an urban legend that the tenure of the MBA's job with his or her first employer is short, about 18 months, [and] conversations with corporate recruiters seem to affirm this urban legend. You are not much wiser after 18 months than you were after your day of graduation. Nor are you much more valuable to the business community. "
Bruner outlined his case for employer loyalty by talking about the careers of five Darden alumni who stayed with companies for more than 20 years.
The school reports that about 17 percent of its graduates change employers within 18 months and that 41 percent stay with their first employer five years or more. Bruner notes, "about two-thirds of all CEOs of the S&P 500 companies were internal appointments; and on average, they spent 12.8 years with their company before being appointed."
But what about MBAs who are truly unhappy in their jobs? Or those who have come to distrust leadership, or find that a company's ethics don't meet their standards?
In those cases, leaving may be justified, Bruner wrote. However, he stressed that MBAs can "stand and fight" for what they think is right, later adding: "You can't have much impact on the world around you if you are constantly on the move."
Let us know what you think in the comments section below.
Join the discussion on the Bloomberg Businessweek Business School Forum, visit us on Facebook, and follow @BWbschools on Twitter.
Before it's here, it's on the Bloomberg Terminal.
LEARN MORE