Has McDonald's Menu Gotten Too Big?
by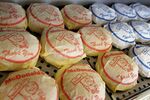 There is some redundancy on McDonald's menu. Take the Double Cheeseburger, which has two beef patties and two slices of American cheese, and the McDouble, which is the same thing with one slice of American cheese. Or the Premium Crispy Chicken Club Sandwich, served with mayo, and the Premium Crispy Chicken Ranch BLT Sandwich, essentially the same sandwich but with ranch sauce instead.
In an effort to draw more consumers, McDonald's has about 145 menu items in the U.S., up from about 85 in 2007. That means more choice, but the increase has been slowing things down at restaurants. The chain is considering scaling back its core menu, according to a franchisee e-mail obtained by Bloomberg News.
The e-mail named seven items for possible removal, including the Caesar salad, the McSkillet Burrito, and the Southern Style Biscuit . The company has recently cut Angus burgers, Fruit & Walnut salads, and Chicken Selects.
You can't please everyone, but that doesn't stop McDonald's from trying. Yet a large menu generally means more ingredients, labor, equipment, and waste.
Getting customers in the door is the most important thing, says William Weidman, senior vice president at Applied Predictive Technologies, a predictive analytics software company that works with restaurant chains. Restaurants fear that small menus won't draw enough consumers. "They don't want to take that risk, so they're biased to have more items," he says.
Innovation and variety are key to McDonald's strategy, so even as it evaluates menu size, it continues to work on new items. In its annual report, the company writes: "We also introduce new products to meet customers' needs, which can expand [the] average check and increase guest counts." In the U.S. in 2013, McDonald's says it plans to "enhance our Dollar Menu and introduce new products to highlight McDonald's value at every price point, across all menu categories." The company declined to comment for this story.
Same-store sales in the U.S. have increased for the past 10 years, according to data compiled by Bloomberg, so the company must be doing something right. Still, Weidman says, "The real question is, do you need everything on that menu? Can you get rid of some items without getting rid of traffic?"
Before it's here, it's on the Bloomberg Terminal.
LEARN MORE